APRIL 5th RESOURCES AND UPDATES:
As of Tuesday (4/6), all New Yorkers 16+ will be eligible for the vaccine (only the Pfizer vaccine is approved for those 16 and 17 years old). Scheduling for this age group will open at 8 am on Tuesday (4/6). Already eligible are everyone 30+, in certain employment sectors, in congregate housing, or with a qualifying underlying condition (full list here).
COVID hospitalizations rose to 4,434. Of the 150,225 tests reported yesterday, 6,583, or 4.38 percent, were positive. The 7-day average positivity rate was 3.57 percent. There were 906 patients in ICU yesterday, up 24 from the previous day. Of them, 577 are intubated. Sadly, we lost 57 New Yorkers to the virus.
As of 11am this morning, 33.3 percent of New Yorkers have completed at least one vaccine dose. Over the past 24 hours, 11,418 total doses have been administered. To date, New York administered 10,480,155 total doses with 20.7 percent of New Yorkers completing their vaccine series. See data by region and county on the State's Vaccine Tracker: ny.gov/vaccinetracker.
Getting a vaccine is getting easier as the supply expands -- but it's far from streamlined. Manhattan BP Gale Brewer compiled this checklist (also accessible on her website) to help you know about every possible option.
Use the NYC COVID Vaccine Finder.
Check availability on NYC Vaccine List or TurboVax, which aggregate available appointments at many State, City, pharmacy, and private sites.
Call the NYC vaccine hotline (877-VAX-4NYC or 877-829-4692) 8 am - 9 pm.
Contact providers listed in the NYS eligibility survey.
Call the NYS vaccine hotline (833-NYS-4VAX or 833-697-4829).
For fully homebound individuals, fill out this form or call 877-829-4692 to request in-home vaccination.
Check hospital networks: Northwell Health; NYU Langone (for current patients only and must create a MyChart account to be notified about an appointment); Hospital for Special Surgery; Fort Washington Armory (216 Fort Washington Ave.), run by NewYork-Presbyterian and Weill Cornell Medicine (create a Connect account).
Check SOMOS vaccine sites.
Pharmacies can vaccinate people 30+, P-12 faculty or staff, child care workers, or those with an underlying condition: CVS (800-SHOP-CVS), Walgreens (800-WALGREENS), RiteAid (800-RITE-AID), and the East Harlem Costco.
NYCHA resident-only sites (call 332-240-3330 to make an appointment and bring proof of NYCHA residency to appointment):

(8833 Lexington Ave. btwn 112th and 115th Sts.): Open Thursday-Sunday through 6/20, 8 am - 6 pm. Serves residents of Johnson, 131 St. Nicholas Ave., Carver, Clinton, Corsi, East River, Jefferson, King Towers, Lehman Village, Lexington, Metro North Plaza, Morris Park Senior Citizens Home, Rehab Program (Taft Rehabs), Taft, UPACA (Sites 5 & 6), Wagner, Washington, White, and Wilson.Johnson Community Center
(210 W. 131st St.): Open Thursday-Sunday through 5/2, 8 am - 6 pm. Serves residents of Saint Nicholas, Drew-Hamilton, Grant, Lincoln, Manhattanville, Robinson, and Samuel (City).St. Nicholas/Central Harlem Senior Citizens Center
Gompers Community Center (80 Pitt St.): Open Thursday-Sunday. Serves residents of Gompers, Baruch, Baruch Houses Addition, Bracetti Plaza, Campos Plaza II, First Houses, Hernandez, LES I Infill, LES II, LES III, LES Rehab (Group 5), Meltzer Tower, Riis I, Riis II, Stanton Street, and Wald.
The City is providing free transportation for those 75+ to three vaccine sites that don't require an advance appointment for the elderly: Citi Field, Bathgate Contract Postal Station (4006 3rd Avenue, Bronx), and Brooklyn Army Terminal. Call 877-VAX-4NYC (877-829-4692) to reserve a free ride. The site will also vaccinate one eligible companion. (I've asked the City to open similar walk-up sites in Manhattan).
Bodega associations will receive 1,000 doses of Johnson & Johnson to vaccinate bodega workers this month. Members can email United Bodegas of America ([email protected]) or the Yemeni American Merchants Association ([email protected]) to register for an appointment. Once the 1,000 appointments are gone, bodega workers can click here to see how to register for an appointment at a City, State, pharmacy, or private site.
New York is expanding the New York Forward Rapid Testing Program to help businesses and events safely reopen. Twenty-five new sites opened Thursday, April 1, and 10 sites will open within the next two weeks for a total of 70 sites statewide. The New York Forward Rapid Test Program provides affordable rapid (30 minutes or less) COVID tests at locations across the State. Learn more.
Upcoming Webinar: Engaging Faith Leaders to Improve Vaccine Confidence -- The Association of Immunization Managers is hosting an interfaith webinar on building vaccine confidence in faith communities on Wednesday, April 7 at 1 p.m. Through presentations and an interactive question and answer panel with religious leaders from Muslim, Jewish, and Christian communities, public health practitioners will learn best practices for building partnerships with faith leaders. Register here.
Starting last Wednesday 4/1, domestic travelers are no longer required to quarantine after entering New York from another U.S. State or U.S. Territory. While no longer required, the NYS Department of Health still recommends quarantine after domestic travel as an added precaution. Mandatory quarantine remains in effect for international travelers. All travelers must continue to fill out the Traveler Health Form. Individuals should continue strict adherence to all safety guidelines to stop the spread—wearing masks, socially distancing and avoiding gatherings.
See how Excelsior Pass can help you be a part of NY's safe reopening. To help revitalize New York's economy safely, the State launched Excelsior Pass—a free and voluntary platform for businesses & individuals that can be used to easily access secure proof of a recent negative COVID test or vaccination. The Excelsior Pass Wallet app is available for both iOS and Android devices. Learn more.
Today, New York announced the start of the statewide "Roll Up Your Sleeve" ad campaign to encourage all New Yorkers to get vaccinated. The ads will be shown on television and online statewide beginning Wednesday, April 7. The ads were directed by Contagion screenplay writer Scott Burns and shot at New York City's Columbia University Mailman School of Public Health. Watch the ad here.
Performing arts and entertainment venues could reopen at 33 percent capacity last Friday. Venues can host up to 100 people indoors or up to 200 people outdoors. If all attendees present proof of completed vaccination or recent negative test result prior to entry, capacity can increase up to 150 people indoors or up to 500 people outdoors. Social distancing, face coverings, health screening and other health protocols will be required by all attendees, as well as strict adherence to all applicable Department of Health guidance—available here.
President Biden and his administration continue to take steps to combat the health and economic crises caused by the COVID-19 pandemic. Last week, that included announcing that 90% of adults in the U.S. will be eligible for COVID vaccinations by April 19 with appointments within 5 miles of their homes and expanding access to COVID-19 vaccines to the hardest-hit and highest-risk communities across the country.
To date, New York has conducted 45 million COVID tests. Testing is a key priority to getting New York back on track. Getting tested for COVID regularly is a great way to ensure your health and the health of those around you. If you are experiencing symptoms of COVID or believe you may have been exposed to the virus, get tested. Find a testing site near you. You can also call 1-888-364-3065 to make a free appointment at a New York State-run testing location.
Collegiate sports can bring fans back to the stands under strict state guidelines beginning April 2. Intercollegiate sports at large-scale venues that hold more than 1,500 attendees indoors or 2,500 attendees outdoors can host up to 10 percent indoor or 20 percent outdoor capacity. All attendees must present proof of a recent negative COVID-19 test result or completed COVID-19 immunization prior to entry. Colleges and universities hosting spectators for sporting events at large-scale venues must notify and coordinate with their respective state or local health department, aligning with the state guidance for professional sports competitions with spectators.
Nursing Home Visitation: New, revised nursing home visitation guidance was announced this week to align with guidelines recently released by the U.S. Centers for Medicare and Medicaid Services. The guidance, which takes effect immediately, permits visitation at all times and for all residents with limited exceptions for unvaccinated residents in areas of high community spread and lower resident vaccination rates, residents with confirmed COVID-19 infection, or those in isolation or quarantine. Facilities must continue to adhere to strong infection control practices.
Extended Open Enrollment – Again! The Open Enrollment Period for uninsured New Yorkers has been extended through December 31, 2021. New Yorkers can apply for coverage through NY State of Health, New York's Official Health Plan Marketplace, or directly through insurers. Individuals who are eligible for other NY State of Health programs - Medicaid, Essential Plan and Child Health Plus - can continue to enroll year-round. New Yorkers can apply for coverage through NY State of Health online at nystateofhealth.ny.gov, by phone at 1-855-355-5777, and by connecting with a free enrollment assister.
More than three million people in the U.S. are now receiving Covid vaccines each day.
The New York Times answered the most common questions about vaccination side effects.
Do you often ask yourself, what time is it? What day is it? Why am I standing in front of the refrigerator staring at an old clove of garlic? You're not alone. A year of uncertainty and loss has left many people in kind of a fog.
Beginning today, the 11pm curfew for certain industries will be lifted. The curfew currently in place for casinos, movie theaters, bowling alleys, billiards halls, gyms and fitness centers will be lifted. The 11pm curfew for food and beverage establishments and the 12am curfew for catered events remain in effect. Both curfews will be evaluated later this month.
The Centers for Disease Control and Prevention (CDC) Director Rochelle P. Walensky extended the CDC's eviction moratorium through June 30, 2021. The moratorium will keep people in their homes and out of crowded or congregate settings, reducing the spread of COVID-19, and was originally set to expire at the end of this month. This will ensure that millions of renters across America are not evicted as the additional assistance provided by the America Rescue Plan is delivered to our communities. At-risk tenants looking to head off eviction must fill out this CDC form and give it to their landlord (keep a copy for your records).
CDC Pregnancy Vaccine Study: The Centers for Disease Control and Prevention has established a "V-Safe After Vaccination Health Checker" that individuals can use to report any symptoms they may experience following COVID-19 vaccination. Symptoms may be reported through text message or web survey. For more information, click here.  While there is no evidence that antibodies from COVID-19 vaccination disrupt pregnancy, the CDC is inviting pregnant individuals to log their symptoms and allow for the CDC to continue checking in with them throughout their pregnancy. Participants may also be contacted within the first few months after delivery. This system will allow the CDC and the United States Food and Drug Administration to capture additional information about vaccination during pregnancy. For more information, click here.
FEMA will reimburse funeral costs for those lost to COVID since 1/20/2020. Although the application isn't yet open, this FAQ explains what documents to prepare.
Education/Parenting
Pfizer says its vaccine shows 100% efficacy in kids 12-15, per clinical trial data released this week. None of the vaccinated adolescents developed COVID, and blood tests revealed a strong immune system response a month after the second dose. Pfizer says it will submit its results to the FDA and European Medicines Agency as soon as possible to expand authorization from the current floor of 16 years old. The company is running trials in kids 2-11 and eventually in kids as young as 6 months. Moderna has begun its clinical trials for children 6 months - 17 years old, and Johnson & Johnson is moving toward a trial for minors.
The opt-in period for in-person learning ends Wednesday, 4/7. To opt in, select "Blended Learning" in the Learning Preferences Survey or call 311. Students in 3K, pre-K, and elementary grades (including in District 75) who opt in will return to the classroom in April. Return dates for newly opted-in middle and high schoolers have not yet been announced. The City is reopening the opt-in period following new CDC guidelines that say students can be spaced three feet apart, instead of six, meaning classrooms can now fit more students.
The pre-K application opened on February 24, 2021; the deadline to apply is also Wednesday, April 7. During the application period, you can apply online or by phone. Here's what you can do now:
Sign up for the pre-K admissions email list (Open external link). The Department of Education will send you updates, tips, and reminders throughout the process.
Learn how to apply and how pre-K offers are made on this page. Missed the virtual Elementary Admissions Events? A recording from one of DOE's January sessions will be available soon, with captions in Arabic, Bengali, Chinese, French, Korean, Haitian Creole, Spanish, Russian and Urdu.
Throughout the admissions process, you'll use MySchools.nyc (Open external link)  to learn about pre-K programs, apply, get your offer, and learn about waitlists. Before the application opens you can:
Schools can get free U.S. maps from the Census Bureau. Contact Joli Golden at [email protected] or 862-336-2911 to order.
Thursdays through 4/22 at 10:30 am, public school teachers and students are invited to Ice Theatre of New York's virtual ice show and skating clinic. Email [email protected] to register ASAP.
High school sports will resume practices in April and competition in May, with the season extending through the summer. Athletes will be required to wear masks, no spectators will be allowed, and participants will undergo weekly COVID testing. Students who opted for fully remote learning will be allowed to participate in athletics. I joined last month's Rally to Restart High School Sports for many reasons, including that students would lose out on college athletic scholarships; NYC suburbs have already restarted school sports.
Entertainment/Distractions
"Citizen Public Health Training" is New York State's free new course to help people recover from the pandemic and prepare for future health crises. In partnership with Cornell University, the 16-hour online course will focus on health communication and community engagement to empower New Yorkers as public health leaders, beginning Friday, 4/30. Register here and preview course materials here.
Shakespeare in the Park is returning after taking last summer off, the Public Theater announced. Beginning in July and running for eight weeks, "Merry Wives," a 12-actor, intermission-free version of "The Merry Wives of Windsor," will be set in Harlem and imagine Falstaff as an African-American seeking to woo two married women who are immigrants from West Africa. Current state regulations would allow 500 audience members in the outdoor theater if everyone presents proof of a negative COVID test.
Lincoln Center is now posting free streams of past productions, starting with 2012's "Vanya and Sonia and Masha and Spike," available through Sunday, 4/11.
FINANCIAL AND LOCAL BUSINESSES UPDATES
Claiming Recovery Rebates: Information and assistance are available for individuals who are eligible for a recovery rebate credit but have no income or are not required to file an income tax return. In order to receive a rebate credit, all individuals are required to file an income tax return. The IRS Free File is available for those who are only filing a tax return to claim the Recovery Rebate Credit. See the special section on IRS.gov about claiming the Recovery Rebate Credit if you aren't required to file a tax return.
As of April 1: Large performing arts and sports venues are allowed to reopen. Outdoor venues with 2,500+ capacity are capped at 20%; indoor venues with 1,500+ capacity are capped at 10%. Proof of a negative Covid-19 test or immunization is required for all attendees. Venues must follow the guidelines outlined in the New York State Department of Health's Interim Guidance for Large Scale Performing Arts and Entertainment Venues during the COVID-19 Public Health Emergency. (We expect the guidance to be posted shortly on the New York Forward Phase Four Industries webpage.)
As of April 2: Small and Medium performances and live entertainment events are allowed to resume. Indoor venues with a capacity of less than 1,500 attendees can reopen at 33% capacity up to 100 people or 150 people with proof of a negative Covid-19 test or immunization from all attendees. Outdoor venues with a capacity of less than 2,500 attendees can reopen at 33% capacity, with up to 200 people or 500 people with proof of a negative Covid-19 test or immunization from all attendees. Social distancing and face coverings will be required for all attendees, as well as strict adherence to all applicable NYS Department of Health guidance.
See Newly released - NY State Guidance: NYS Department of Health Interim Guidance for Small and Medium Scale Performing Arts and Entertainment during the COVID-19 Public Health Emergency (pdf)
Starting April 5: The State is lifting the 11 p.m. curfew currently in place for casinos, movie theaters, bowling alleys, billiards halls, gyms and fitness centers. The 11 p.m. curfew for food and beverage establishments and the 12 a.m. curfew for catered events will remain in effect. See Governor's announcement for more details.
Applications for the NYC Open Streets program are now open. Administered by the NYC Department of Transportation, the program allows communities to dedicate roadway space to pedestrians and cyclists. Interested businesses and community partners can learn more and apply now at: nyc.gov/openstreets.
The City and State are both hiring for vaccine-related positions. The City's Vaccine for All Corps is looking to hire people particularly from hard-hit communities and industries. No health care experience is necessary for roles in vaccine site management, operations, and client services; the Corps is also hiring for clinical roles. Click the link above to apply through the Dept. of Small Business Services.  The State is hiring for clinical and non-clinical roles at vaccine sites. See openings here.
Open Culture program - Artists can apply for outdoor performance permits on these streets through Sunday, 10/31 and can charge admission.
Cultural Development Fund - Grants for nonprofit arts and cultural organizations, from the NYC Dept. of Cultural Affairs. Applications close Monday, 4/12.
The application launch for the Shuttered Venue Operators Grant has been delayed a week to Thursday, 4/8. Companies and nonprofits that operate live-performance venues, talent/management agencies, and others can apply for up to $10 million in relief from the Save our Stages Act in the December stimulus bill via the U.S. Small Business Administration. ​The SBA will host a webinar next Tuesday (3/30) at 2:30 pm about how to apply, necessary application documents, and what the application process will look like. Register here.
Tech kits for performing artists are now available through New York Public Library grab-and-go locations. Click here to learn about the kits (which include audio- and video-recording equipment) and how to borrow one.
Applications close Saturday, 5/1 for Women's Film Preservation Fund grants up to $10,000 from New York Women in Film & Television. Apply here.
The NYC Parks Dept. is hiring camp counselors, wildlife monitors, playground associates, security guards, and more this summer. See openings here.
East Side and Roosevelt Island low-income tenants can get free housing legal advice from the Tenant Advice Helpline through Lenox Hill Neighborhood House. Leave a message at 212-218-0330, and the legal team will return your call within a week.
Applications close Friday, 4/23 for the National Academy of Design's Abbey Mural Prize. Click the link for eligibility and application guidelines.
File your taxes for free if you earned $68,000 or less in 2020, thanks to NYC Free Tax Prep. If you didn't receive some or any of the two pandemic stimulus checks, NYC Free Tax Prep can assist with claiming the equivalent amounts as a "Recovery Rebate Credit." (Volunteer tax preparers are needed for these sites, too.)
The Biden administration has extended the pause on most federal student loans -- due to expire Sunday (1/31)-- through 9/30, which means payments are suspended, collections on defaulted loans are stopped, and the interest rate is 0% through September. The Federal Student Aid Office's website has a detailed FAQ about eligibility.
NYC created "What to Expect When You're Inspected: NYC Indoor and Outdoor Dining Checklist for Participating Establishments." Check it out here. 
Applications open Thursday, 4/1 for the Shuttered Venue Operators Grants aka Save our Stages. Arts venues and representatives can see eligibility criteria here and should note they must have been in operation as of 2/29/2020 and must not have received a Paycheck Protection Program loan on or after 12/27/2020. For additional info, contact [email protected].
The Mayor extended the City's Open Storefronts program through 9/30/21, allowing storefront retail businesses to continue operating directly outside their store. Plan now for warmer weather; read the FAQ for eligibility and operating guidelines, and apply here.
The City's Department of Small Business Services has shared their new "Find a Job" page, which lists open employment listings from across NYC. Learn more and search the listings.
WAYS YOU CAN HELP
Become a New York State Citizen Public Health Leader. To continue the fight against COVID and prepare for the next public health emergency, the State launched a free, online Citizen Public Health Training course for New Yorkers, in partnership with Cornell University and supported by the State University of New York. This program will prepare and equip New Yorkers to become Citizen Public Health Leaders and build an informed network of community health leaders across the state. Enroll today.
Ryan Health is looking for qualified volunteers -- physicians, registered nurses, licensed practical nurses, nurse practitioners, physician assistants, dentists, and other licensed medical providers-- to administer the COVID vaccine at centers across Manhattan. Email [email protected] to volunteer.
Invisible Hands is a nonprofit that helps neighbors challenged by COVID-19 by performing essential delivery of food, medicine and other necessities throughout NYC, Long Island, Westchester, New Jersey and Philadelphia. Volunteers can either perform deliveries in their neighborhood or work remotely in the call center or delivery center. Volunteers needed in all areas of NYC to perform deliveries in their local neighborhood or by car. Remote volunteers take orders from clients, field inquiries and also troubleshoot existing orders. You should be comfortable using Slack, internet telephone, and Zoom. Visit https://invisiblehandsdeliver.org/ for more information.
New York State is encouraging eligible New Yorkers to train to become vaccinators. If you are a licensed practical nurse, a dentist, an EMT, a medical nursing student with at least a year of clinical experience, and more—then you may be eligible to take training to become a vaccinator and help New York administer COVID vaccines over the coming months. See how you can get involved.
Animal Care Centers of NYC is seeking donations of large crates, no-pull harnesses, toys, and pet food.
Helpers for COVID-19 is an organization that delivers essential goods to the immunocompromised. To volunteer, click here. To request deliveries, click here or call (862)-621-9614‬. Assistance is available in English, Hindi, Russian, Mandarin, Spanish, and Hebrew.
The NYC Civic Corps is seeking nonprofit organizations to host 2021-2022 AmeriCorps members, who help develop host organizations' volunteer programs. Learn more and apply here.
Order directly from restaurants, not from delivery apps. See why the New York Times.
Businesses and organizations can donate extra food and supplies to local organizations that can then redistribute them. Details about eligible donors and recipients can be found online: For food donations visit nyc.gov/donatefood; for non-food donations, visit nyc.gov/donate.
Borrow free equipment for community clean-ups from the Dept. of Sanitation by calling 311, emailing [email protected] or submitting this form.
If you are experiencing COVID symptoms or believe you may have been exposed to someone who is positive, get tested. Find a testing site near you. You can also call 1-888-364-3065 to schedule a free appointment at a New York State-run testing location.
If you get a call from NYS Contact Tracing, pick up. Contact tracers are working around the clock to trace clusters and inform people who have been in contact with someone who tested positive for COVID. How can you help? Simply by picking up the phone. If your caller ID says "NYS Contact Tracing," pick up and help New York stop the spread. (Tracers will never ask for your Social Security Number or financial information; if someone does, they are not an official tracer and you should hang up.)
Give your friends a call. Check in with your family. Ask them how everything is going and how they are feeling. Let's show each other some love because mental health is just as important as physical health. New Yorkers can also call the State's mental health hotline at 1-844-863-9314 for free emotional support, consultations & referrals to a provider.
The pandemic has caused declines in organ donations. With so many people awaiting lifesaving organ transplants, Governor Cuomo urges New Yorkers to become organ donors and join the NYS Donate Life Registry.
Apply to become a member of the NYC Community Emergency Response Team, which assists first responders with community preparedness and disaster support. Apply here.
THE CITY is asking folks who know any New York City residents who have died of COVID-19 to fill out a simple form to tell them about the lives of those we've lost. Their goal is to put as many names, faces and details to the numbers as possible. You'll find more here — including the form.
Donate blood. The New York Blood Center says that levels of blood are dangerously low. To make an appointment to donate, visit nybc.org or call 1.800.933.2566. Appointments are strongly recommended.
Support local businesses by buying gift cards. We have posted links to sites selling gift cards. Another site selling gift cards to restaurants, barber shops, and events like ghost hunts, and museums, see SupportLocal at https://supportlocal.usatoday.com/cities/
New York City Service is looking for volunteers to help those affected by COVID-19, click here.
New York State has provided a form for the donation of goods, services, or space. To access the form, click here.
The dedicated staff at the Stanley Isaacs Center, 415 E. 93 St., needs help supporting their older adult clients through meals and case management services. Interested in volunteering? Shifts: Meal Plating from 7:00am-9:00am; Meal Delivery from 9:45am-1:00pm; Cold Packing from 10:00am-1:00pm. Contact communitysupport@isaacscenter.org
LOCAL ELECTED OFFICIALS' TELE-TOWN HALLS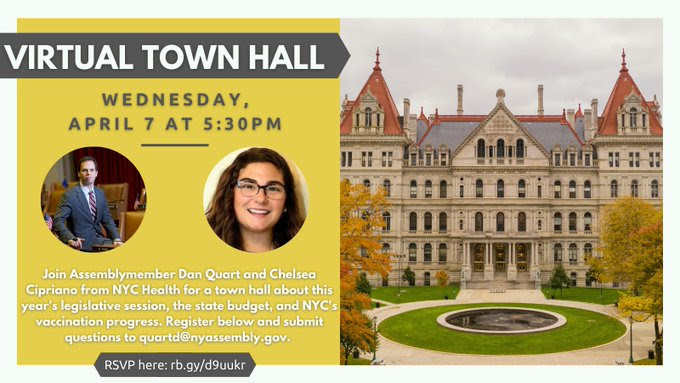 Senator Krueger's Virtual Town Hall
"Ranked Choice Voting: Just the Basics"
 Wednesday, April 7th 7 pm- 8:30 pm
New York City will implement ranked choice voting for the first time during the upcoming June 22nd primary election for all municipal races, including City Council, City Comptroller, and Mayor. During this Virtual Town Hall, you will hear from the experts about the history of ranked choice voting, learn how to fill out your ballot, and find out how your votes will be counted. More importantly, you will learn why this new voting process enhances the power of your vote, and helps to make New York City elections more democratic.
The event will feature:
Dr. Sarah Sayeed, Chair and Executive Director, NYC Civic Engagement Board
Allie Swatek, Director of Policy and Research, NYC Campaign Finance Board
You will have the option of joining the event online through Zoom, a webinar hosting service.
You will also have the option to view the event online through Facebook. Please note that you do not need a Facebook account or profile to view the event through Facebook.
If you do not have access to a computer, tablet, or other electronic device, you can listen in by telephone.
**Once you register for the event, you will receive a confirmation email with the Zoom and Facebook links, and the call-in information.**
The event will feature a question and answer session with Sarah Sayeed and Allie Swatek. If you have questions about the mechanics of ranked choice voting, how to maximize the impact of your vote, and how ranked choice votes are tabulated, please RSVP for the April 7th Virtual Town Hall. Attendees will be able to submit questions through Zoom and Facebook during the event but are strongly encouraged to submit them in advance. 
Please let us know you plan to attend the Wednesday, April 7th  Ranked Choice Voting  by registering at https://tinyurl.com/rcvtownhall.
Senator Krueger's Virtual Town Hall
"New York City: What Can We Do After Getting a COVID-19 Vaccination?"
Thursday, April 15th 7 pm – 8:15 pm
Now that we have three COVID-19 vaccines available, there appears to be light at the end of the tunnel. However, we live in a densely populated city where variants are rapidly spreading and COVID-19 cases are rising. The White House COVID-19 Response Team recently emphasized the importance of continuing to follow safety precautions, and the dangers of reopening too quickly. Now, many New Yorkers are asking: what is safe to do after getting vaccinated and what are the implications for reopening the City?
The Virtual Town Hall will feature Dr. Celine Gounder, an Infectious Disease Specialist and Epidemiologist at NYU Grossman School of Medicine and Bellevue Hospital, a CNN Medical Analyst, and a former Biden Transition COVID advisor. Dr. Gounder will share information during the Town Hall about the impact of the COVID-19 vaccines on contracting and transmitting the virus, COVID-19 variants, public health, and reopening, as well as what activities are reasonable to resume post-vaccination.
You will have the option of joining the event online through Zoom, a webinar hosting service.
You will also have the option to view the event online through Facebook. Please note that you do not need a Facebook account or profile to view the event through Facebook.
If you do not have access to a computer, tablet, or other electronic device, you can listen in by telephone.
**Once you register for the event, you will receive a confirmation email with the Zoom and Facebook links, and the call-in information.**
The event will feature a question and answer session with Dr. Gounder. If you have questions about the protection that COVID-19 vaccines provide, types of activities that are safe to resume post-vaccination and with whom, and what public health requirements should be considered in the public and private sectors to help keep us safe, including vaccine passports and COVID workplace regulations, please RSVP for this event. Attendees will be able to submit questions through Zoom and Facebook during the event but are strongly encouraged to submit them in advance.
Please let us know you plan to attend the Thursday, April 15th "New York City: What We Can Do After Getting a COVID-19 Vaccination?" by registering at https://tinyurl.com/post-vaccinenyc.
2021 Virtual Roundtable for Boomers and Seniors from Senator Liz Krueger. "Being Mortal: Thinking About End of Life Decision Making"
This year's Roundtable series will bring together experts to offer concrete tools to assist with end of life planning, and provide a forum to ignite our imagination about what we value and how we want to live as we age.
To RSVP for any or all of the sessions in this year's series, please go to https://tinyurl.com/2021SeniorRoundtableSeries.
Thursday, April 22nd - Living Well: What Do We Value Most? 10:00 am – 11:30 am
- Rabbi Angela Warnick Buchdahl, Senior Rabbi, Central Synagogue
- Jeannie Blaustein, PhD, D. Ministry, Founding Board Chair, Reimaging End of Life, Adjunct Faculty, Pace University, Psychology
Thursday, May 20th - Reimagining Later Life Care Models 10 am – 11:30 am
- TBA
Coronavirus (COVID-19) FAQs & Resources
The State's Coronavirus Hotline is open 24 hours if you have any questions or concerns: 1-888-364-3065. **If you need help getting medical care, you can also call 311. New York City will provide care regardless of immigration status or ability to pay.
The NYP COVID Hotline 646-697-4000 can answer questions about COVID-19. This hotline is a public service to provide information only and not to diagnose, treat, or render a medical opinion. Their Coronavirus Frequently Asked Questions document is available on the NYP Coronavirus website.
To get regular updates on the latest developments with coronavirus in New York City text COVID to 692-692. You will receive regular SMS texts with the latest news and developments. Please check nyc.gov/health/coronavirus for the latest updates
If you are experiencing stress or feel anxious, contact NYC Well at 888-NYC-WELL (888-692- 9355) or text WELL to 65173. NYC Well is a confidential help line that is staffed 24/7 by trained counselors who can provide brief supportive therapy, crisis counseling, and connections to behavioral health treatment, in more than 200 languages.
Additional resources:
Download the app on your iPhone here.  Download the app on your Android device here.
Coronavirus (COVID-19) – Past Updates from CB8