MAY 28th RESOURCES AND UPDATES:
Mayor de Blasio said that over 1,700 tracers have been hired to join the Test & Trace Corp, surpassing the City's goal to hire 1,000 tracers by June 1, with 700 hired from neighborhoods hardest hit by the virus. To ensure the Corps can meet the needs of  New Yorkers from all backgrounds, 40 distinct languages are also spoken across the Corps.
Chris Rock and Rosie Perez joined Gov. Cuomo in Brooklyn today to encourage New Yorkers to get tested. They also highlighted why wearing a mask in public is important for all of us. These iconic Brooklynites have signed on to help us get the word out to all: If you have symptoms, have had contact with a COVID-positive person or are an essential employee, get a test and find out if you have COVID-19. There are over 225 testing sites in NYC alone — find one near you here.
The MTA will pilot the use of proven UV light technology to kill COVID-19 in subway cars and crew facilities. The MTA currently cleans and disinfects its fleet of subway cars and commuter trains every 24 hours.
New York State will distribute 1 million masks to NYC's hardest-hit neighborhoods today. The state has already distributed more than 8 million masks across New York City, including NYCHA developments, food banks, churches and homeless shelters.
The Treasury and the IRS began sending out nearly 4 million payments using a new method: A new prepaid debit card. Cannot stress this enough, DO NOT THROW IT AWAY, it is not junk mail. Speak to a banker or expert if you are not sure. Forbes has released an article with advice for these debit cards. It is important that you do not discard these even after withdrawing or spending this money. If another stimulus is issued, they will refill that card or charge you for another one.
The Mayor's Office to Prevent Gun Violence has announced the Safe in the City grant program, which will provide grants ranging from $500 - $1000 to NYC residents and nonprofit groups to fund community-centered actions and activities to make neighborhoods safer from gun violence. The program's first deadline is June 30; learn more and apply here.
For those driving, New York rest stops, text stops and welcome centers remain open. Rest rooms, gas and vending machines continue to be available — and enhanced cleaning measures have been implemented. New Yorkers should continue to wear a mask in public, including rest areas.
The Daily News reports that a University of Helsinki study showed that dogs can sniff the distinctive odor of a coronavirus infection. They are hoping the dogs will be able to find infections at airports and other high risk areas.
Tonight (5/28) marks the beginning of the Jewish holiday of Shavuot and its tradition of learning into the early hours. Check out Stay The Night: Tikkun Leil Shavuot with the Marlene Meyerson JCC Manhattan and Tikkun: Into the Night, organized by the 14 St. Y and Downtown Jewish Life for spiritual, social justice, arts, and culinary programming. (BYOC - Bring Your Own Cheesecake!)
Alternate Side Parking will be suspended through Sunday, June 7th. This comes after the Department of Sanitation did a clean sweep across the city. Thank you to our essential Sanitation workers, whose work helps New Yorkers stay healthy and safe.
The ULURP timetable continues to be suspended, through to this Friday (5/29).
The New York Stock Exchange reopened their floor for trading Tuesday. After two months, many employees can return to the floor after the organization has implemented specific precautions to protect the health of its workers. I rang the opening bell this morning.
New Yorkers trying to make appointments for antibody testing at sites managed by the City and BioReference Laboratories (Manhattan's site is located at 21 Old Broadway in Manhattanville) can use this intake form or call (888) 279-0967. Remember: "viral" tests reveal whether a patient currently has COVID-19 (and typically use nasal swabs), while "antibody" tests (which take your blood) determine whether a patient has ever had the virus.
For other testing sites, visit the COVID-19 testing site map from Castlight Health, recommended for use by both the City and State.
Ready Responders has also been hired by the State to conduct testing at 40 public housing developments across the City, including Polo Grounds and Washington Houses, with more to be announced. For more information, call (888) 727-7014 or visit readyresponders.com.
Veterinarian practices are be allowed to open in all regions.
Campgrounds and RV Parks are allowed to be open statewide.
On Tuesday, Mayor Bill de Blasio signed a bill that places a limit on the fees third-party delivery services such as Grubhub, Postmates, Uber Eats and DoorDosh can charge restaurants.
Governor Cuomo  announced the members of a new state-level Blue-Ribbon Commission, which will advise on improving tele-health and broadband access. A list of members (and of all the appointed reopening task forces) is available on Borough President Brewer's  website.
An affordable housing lottery has opened for 22 income-restricted units at Waterline Square, a development between 59th and 61st Streets along the Hudson River. Learn more here, and apply at housingconnect.nyc.gov.
Congratulations to the winners of the "Wear A Mask" PSA Video Contest: "We 
 New York," created by Bunny Lake Films, and "You Can Still Smile" by Natalia Bougadellis and Emory Parker. Both winning videos will run as public service announcements and can be viewed here.
The Nourish NY initiative is a growing lifeline for many NY farms. The recently launched program provides $25 million for food banks across the state to buy food from New York farms, including dairy products and produce. The initiative tackles two problems at once: making sure that food doesn't get wasted and that New Yorkers in need don't go hungry. So far, 87,588 gallons of milk and over 500,000 pounds of vegetables and fruit have been sent to food banks.
If you and your family need emergency assistance with groceries or need a cooked meal, you can find resources here.
One Week of Free Groceries: The Department of Probation, Neighborhood Opportunity Network (NeON) Nutrition Kitchens, in partnership with the Food Bank of NYC and the NYC Young Men's Initiative (YMI) have opened five kitchens – one in each borough – to distribute free food, available to any New Yorker who needs it visit here.
Please remember as businesses start to re-open and you go back to work, be sure to know your rights as an employee (or your responsibilities as an employer). New Yorkers can call the Coronavirus Hotline at 1-888-364-3065 if you believe your employer is not following PPE, hygiene or social distancing guidelines as more businesses begin to reopen.
Reminder that you can still enroll for health insurance on the New York health plan marketplace. If you lost your job or health coverage, or are uninsured, you can enroll in a plan today at nystateofhealth.ny.gov. You may also qualify for health care coverage from Medicaid or Child Health Plus through the marketplace.
The Farmers Markets resumed Saturday in Good Shepherd Plaza from 6:00 AM – 3:00 PM. Please click here for more information. rioc.ny.gov/CivicAlerts.aspx?AID=284. Please note there will be NO Food Scrap Drop Off collection. If you wish for the Compost Program to return follow @SaveNYCCompost on twitter for more information.
Some New York City beaches may open in June, but with restrictions. Details are not available.
Enforcing no congregating rules and no public alcohol drinking will be priorities of the NYPD as some New Yorkers have been partying outside restaurants.
While more streets have been added to the Open Streets program, no Upper East Side streets are included in the new list.
New York State and New York City will provide death benefits to frontline workers who have died from the coronavirus.
Veterans who have died from the coronavirus are being buried without customary military honors.
Can you get the virus from a surface? As lockdowns lift, many more New Yorkers are going to come in contact with surfaces that other people have touched: doorknobs, tabletops, shopping bags and more. People find these situations confusing. The New York Times  has published a guide to surface transmission, and we recommend taking a look at it.
The Governor called on the U.S. Senate to pass a coronavirus relief bill that helps all Americans and provides unrestricted fiscal support for states. The next bill should focus on funding state and local governments, working families, state testing and tracing efforts and a real economic stimulus with no handouts to corporations who do not protect their workers and only enrich executives or shareholders. The House of Representatives has already passed a bill that includes $500 billion for states and $375 billion for locals; Medicaid funding for the most vulnerable; increased SNAP food assistance; 100 percent FEMA federal assistance; funding for testing; and repeals SALT cap to help states most affected by COVID-19.
The Governor reiterated his call for the U.S. Senate to repeal the SALT limitations. The states most impacted by COVID-19 represent more than one-third of the national GDP. They also send tens of billions of tax dollars more to the federal government than they get back, and the dollars they send are then redistributed to other states and big corporations. These very same states that have been most impacted by COVID-19, are also the states that were hit hardest by the cap on state and local taxes, the politically motivated first double tax in U.S. history that was implemented by the federal tax law in 2017.
Education/Parenting
The City Department of Education has announced the dates for this year's online summer school programming, which will serve 178,000 students: for elementary and middle schoolers the program will run from July 6 - August 11 (four days a week, Monday - Thursday), and for high schoolers it will run from July 6 - August 14. For students in IEP's, the summer program will run from July 2 - August 13.
If you have a child born in 2016, seats are still available for Pre-K! Visit myschools.nyc or call 718-935-2009 to apply for your child.
The Department of Education is lending internet-enabled iPads to students who are in need of a device. To receive a device, please complete the Remote Learning Device Request Form. Families that want to request a device can also call 718-935-5100 and choose Option 5 on the menu. More information is available here.
For information and to register for the Little Guggs programs for young art lovers at the Guggenheim, click here.  For at home art classes for grades 2-8 at the Guggenheim click here.
If you have children who attend public school in your household, you will automatically receive the $420 per child from NY State that would have been spent on school lunches during a normal school year. The funds are disbursed as follows:
If you are on SNAP and cash assistance: You should have received an additional $193 deposited to your EBT card on May 19. The remainder, $227, will be deposited on June 16.
If you are on Medicaid only: You will receive the full $420 amount per child during the last two weeks in June.
If you are not on any assistance or benefits program: you will be mailed a $420 EBT card this summer from the NYS Office of Temporary and Disability Assistance.
The Children's Museum of Manhattan (CMOM) is launching a new online resource for parents and caregivers of young children during the pandemic, which will provide research, expert tips and insights to help parents navigate how to support their children's education during the COVID-19 crisis. The program, called CMOM Parenting in Place, will feature a series of videos and will deliver advice and tips from CMOM partner experts in child development, psychology, health and more.
Entertainment/Distractions
For information and a virtual tour of the Met's new exhibit, Sahel: Art and Empires on the Shores of the Sahara, click here.
For information and programs on art for children on the autism spectrum and their caregivers, click here.
Lincoln Center for the Performing Arts is devoting one week of its online streaming content to dance, airing ballet performances and streaming live classes. From Saturday, May 30 to Thursday, June 4, Lincoln Center will be streaming a performance from a renowned dance company each night at LincolnCenter.org and on the center's Facebook. Some broadcasts have not been seen in decades. For more information about the classes, visit LincolnCenter.org/PopUpClassroom
WAYS YOU CAN HELP
THE CITY is asking folks who know any New York City residents who have died of COVID-19 to fill out a simple form to tell them about the lives of those we've lost. Their goal is to put as many names, faces and details to the numbers as possible. You'll find more here — including the form.
Donate blood. The New York Blood Center says that levels of blood are dangerously low. The center is hosting a blood drive at MetLife Stadium on Thursday, May 28 from 12 to 8 p.m. To make an appointment to donate, visit nybc.org or call 1.800.933.2566. Appointments are strongly recommended.
If you have recovered from COVID-19, you may be able to save lives by contacting the state to donate blood. People who have recovered from the virus may have convalescent plasma in their blood, which has antibodies against the virus and could help with the development of a treatment. More information about how to donate is available here.
In partnership with NYC Census 2020, Seamless is giving away ten $1,000 gift cards to New Yorkers who complete the 2020 Census. These gift cards can be used on Seamless to order meals for pickup or delivery from local restaurants in New York City. In order to qualify, an individual must first complete the census for their household, then register for the contest by offering proof to NYC Census 2020 of having done so and providing up to 250 characters about what winning would mean to them. Winners will be selected based on the quality of their answers to that last question. Enter at nyc.gov/CensusContest.
GetFoodNYC's Emergency Food Program is still seeking new non-profit partners, especially those with expertise in culturally-competent meals, to help reach their goal of delivering 1 million meals per day. Interested potential partners should visit NYC.gov/nonprofits and apply by May 29.
Please fill out the CovidWatcher survey from my friend Ester Fuchs and the Columbia School of International and Public Affairs. Completing it helps prepare open data to guide policy on neighborhood services, the spread of COVID-19, and local access to both care and testing.
The New York Public Theater will be putting a virtual benefit show in lieu of its annual fundraising gala with performances and appearances from some of the community's biggest stars. The event — titled "We are One Public" — is slated for June 1 and will be hosted by Jesse Tyler Ferguson. Viewers can watch the show via live stream starting 8 p.m. June 1 on the Public's website, Facebook and YouTube pages. Those who donate or RSVP in advance will be entered into a raffle to win a $100 Seamless eGift Card.
Support local businesses by buying gift cards. We have posted links to sites selling gift cards. Another site selling gift cards to restaurants, barber shops, and events like ghost hunts, and museums, see SupportLocal at https://supportlocal.usatoday.com/cities/
New York City Service is looking for volunteers to help those affected by COVID-19, click here.
New York State has provided a form for the donation of goods, services, or space. To access the form, click here.
The dedicated staff at the Stanley Isaacs Center, 415 E. 93 St., needs help supporting their older adult clients through meals and case management services. Interested in volunteering? Contact [email protected]
Donate blood. Blood is urgently needed. Please go to https://coronavirus.health.ny.gov/node/1546 to make an appointment (walk-ins) are no longer allowed and for more information.
Donate to the First Responders Fund. The fund will assist COVID-19 healthcare workers and first responders with expenses and costs, including child care. Donations can be made electronically at www.healthresearch.org/donation-form/ or by check, mailed to "Health Research, Inc., 150 Broadway, Suite 560, Menands, NY 12204." (For checks, the donor should specify the donation is for "COVID-19 NYS Emergency Response.")
Complete your Census form.  Census responses can't be used for any purpose other than tallying up population-- it's the law. And no enumerators will be knocking on doors today. So, please, if you haven't yet done so, take the time to fill in your form at www.my2020census.gov.  New York City's response rate is 10% behind the overall U.S. rate. We need every dollar and every Congressional seat. These depend on the census count. Please complete your form.
FINANCIAL AND LOCAL BUSINESSES UPDATES
New York State is launching a $100+ million loan program for small businesses. The loan program will focus on supporting small businesses that were less likely to receive federal loans, especially women and minority-owned businesses, and very small businesses with 20 or fewer employees. Learn more at esd.ny.gov/nyforwardloans.
NYFLF will make under-$100,000 working capital loans to NYS small businesses, nonprofits, and small landlords of under 20 employees and gross revenues of under $3 million. Applicants are ineligible if they received SBA funding through the Paycheck Protection Program (PPP) or the Economic Injury Disaster Loan (EIDL).
Loan amounts will be the lesser of (a) $100,000 or (b) up to 100% of average monthly revenues in any 3-month period from 2019 or first quarter of 2020. For small businesses and small landlords the interest rate is 3%, for nonprofits it's 2%, and all are for a five-year term with interest-only payments due during the first 12 months. No collateral is required and there are no application fees or prepayment penalties. Eligible use of loan funds include working capital, inventory, marketing, refitting for new social distancing guidelines, operating and emergency maintenance, property taxes, utilities, rent and supplies.
Those businesses can complete the NYFLF pre-application and get in queue. Learn more at Empire State Development's NYFLF presentation and FAQ Document.
New York is extending sales tax interest and penalty relief through June 22, 2020. This extension will provide additional support for to 89,000 vendors who had returns due in March. These small businesses file their taxes quarterly and annually, and have taxable receipts of less than $300,000 in the previous quarter.
DCWP released a letter template in multiple languages that people can use to respond to aggressive debt collectors during the state of emergency. Please share it with your constituents. For more information about scams and other consumer issues, visit nyc.gov/consumers.
Pace University's Small Business Development Center can help business owners apply for these loans. Email [email protected] to arrange a free virtual meeting to discuss this and other small business financial programs.
Applicants approved for Cash Assistance & SNAP benefits will receive an EBT card in the mail. Call EBT Customer Service at 888-328-6399 for account information or to request a replacement card to be received by mail.
Businesses can use this lookup tool to determine what phase of reopening we are in, where they are allowed to operate to date, and the affirmations for businesses needed once a region is in Phase 1. (Some businesses in NYC in anticipation of Phase 1 reopening have already made their affirmations.) Please be aware of these tools so you are prepared to enter into Phase 1 when NYC opens.
Both the City and State are hiring employees and supervisors for contact tracing: reaching out to the contacts of those diagnosed with COVID-19 to track the spread. Learn more here for the City (three types of contract tracer jobs along with many non-tracing jobs listed), and here for the State (contact tracers, team supervisors, and community support specialists).
The City's Workforce1 Career Center launched a Virtual Center(or call 718-960-2458) to help New Yorkers prepare for, and connect to, jobs across New York City's five boroughs and in every sector of the economy. Current employment opportunities include Stop & Shop, Fresh Direct & PBM Guardian Industry Services.
Jobs: Temporary opportunities are available by clicking here.
250 of the jobs for NYCHA residents listed on OpportunityNYCHA.org have yet to be filled. These positions are for temporary per diem workers to assist with general maintenance at NYCHA properties. Per diem income will not have an impact on your rent. Apply here.
The New York State Department of Labor (DOL) has launched a new, streamlined application for New Yorkers to apply for COVID-19 Pandemic Unemployment Assistance without first needing to apply for Unemployment Insurance. Prior to today, New Yorkers were required to apply for regular Unemployment Insurance and be rejected before applying for Pandemic Unemployment Assistance. This new application, which aligns with updated federal policy, allows New Yorkers to simply fill out one form to get the correct benefits without requiring applicants to call the DOL. The agency has installed more than 3,100 representatives solely dedicated to answering unemployment benefit needs seven days a week. The DOL previously had 400 representatives in the call center. The DOL has paid out $2.2 billion in unemployment benefits to 1.1 million New Yorkers so far. The new form is available here.
NYC Health and Hospitals is hiring for several positions - patient transportation, clerical and cleaning staff. You can apply today at http://nyc.gov/getwork.
The Madison Avenue BID put together the official New York State reopening documents into an easily accessible primer, so please see below.
Curbside and In-Store Pickup Retail Guidelines for Employers and Employees (click here to open). We advise that you read this document first. It gives you the both the mandatory requirements for reopening, as well as recommended best practices. The document provides rules for physical distancing, protective equipment, hygiene and cleaning, communications and screening.

In order to follow the Curbside and In-Store Pickup Retail Guidelines noted above, businesses are asked to adhere to measures outlined in a variety of Federal and New York State health and safety reports. These are:

Centers for Disease Control and Prevention (CDC) (click here for link to Businesses & Workplaces guide). Please note that specifically, businesses must adhere to the "hygiene and sanitation requirements from the CDC and maintain cleaning logs on site that document date, time, and scope of cleaning." Moreover, regarding screening employees, whomever is screening must be familiar with Covid-19 symptoms noted by the CDC (click here for link).

New York State Department of Health (please click here for NYS Department of Health page referenced in the Reopening Guidelines). Along with the CDC's guidelines, businesses must adhere to the "hygiene and sanitation requirements from the New York State Department of Health and maintain cleaning logs on site that document date, time, and scope of cleaning."

For cleaning and disinfecting your retail location, you need to be using NYS "Department of Environmental Conservation products identified by the Environmental Protection Agency as effective against COVID-19. You can download that list of products by clicking here. While the list is very long and has lots of obscure sounding products, you will see some famous household names including specific products from Clorox, Lysol, Mr. Clean and Purell.

Under "Recommended Best Practices" for "Physical Distancing," the Reopening Guide references the U.S. Occupational Safety and Health Administration (OSHA) "Guidance on Preparing Workplaces for COVID-19" (click here to download). Please review this important document.

New York State Department of Health NY Forward Safety Plan Template (click here to open). Each re-opening business must develop a written Safety Plan outlining how its workplace will prevent the spread of COVID-19. A business may fill out this template to fulfill the requirement, or may develop its own Safety Plan. This plan does not need to be submitted to a state agency for approval but must be retained on the premises of the business and must made available to the New York State Department of Health (DOH) or local health or safety authorities in the event of an inspection.

New York State Department of Health Interim Guidance for Curbside and In-Store Pickup Retail Business Activities During the COVID-19 Public Health Emergency (click here to open). To open, a responsible party from your business must "affirm that you have read and understand your obligation to operate in accordance with this guidance" by clicking through a link provided at the end of this document. The document covers items including physical distancing, gatherings in enclosed spaces, workplace activity, movement and commerce, protective equipment, hygiene and cleaning, phased reopening, screening and testing, tracing and tracking, and employer plans.

A variety of federal and state documents are referenced in this "Interim Guidance," including:

OSHA COVID-19 Guidance for Restaurants & Beverage Vendors Offering Takeout or Curbside Pickup (click here to download);

CDC's Interim Guidance for Businesses and Employers Responding to Coronavirus Disease 2019 (COVID-19), May 2020, (click here to download);

NYS Department of Health Interim Guidance for Cleaning and Disinfection of Public and Private Facilities for COVID-19 (click here to download);

CDC Guidance for Evaluating and Testing Persons for Coronavirus Disease 2019 (COVID-19) (click here to download):
LOCAL ELECTED OFFICIALS' TELE-TOWN HALLS
Senator Krueger's Virtual Town Hall Series: Housing Issues, Part 1: Questions & Concerns for Renters 
On Thursday, May 28 from 7pm - 8:30pm, join Senator Krueger and tenant attorney Ellen Davidson for the first of two virtual Town Halls on NYC Housing Issues during the pandemic. Part 1 will focus on the questions and concerns of renters. Part 2 will explore issues facing coop shareholders, condo owners, and homeowners, and will take place on Thursday, June 4th from 7-8pm. Ms. Davidson has been a staff attorney in the Legal Aid Society's law reform unit since 2006, specializing in rent regulated housing, and a long-time tenant advocate. Topics of discussion will include the current moratorium on evictions, the temporary closure of Housing Court, what to do if you are struggling to pay your rent, obtaining emergency repairs, leases, and pending legislation to protect renters during the pandemic. Please let us know you plan to attend Part 1 on May 28th by registering at https://www.lizkrueger.com/virtualtownhall-rsvp-housingpart1/.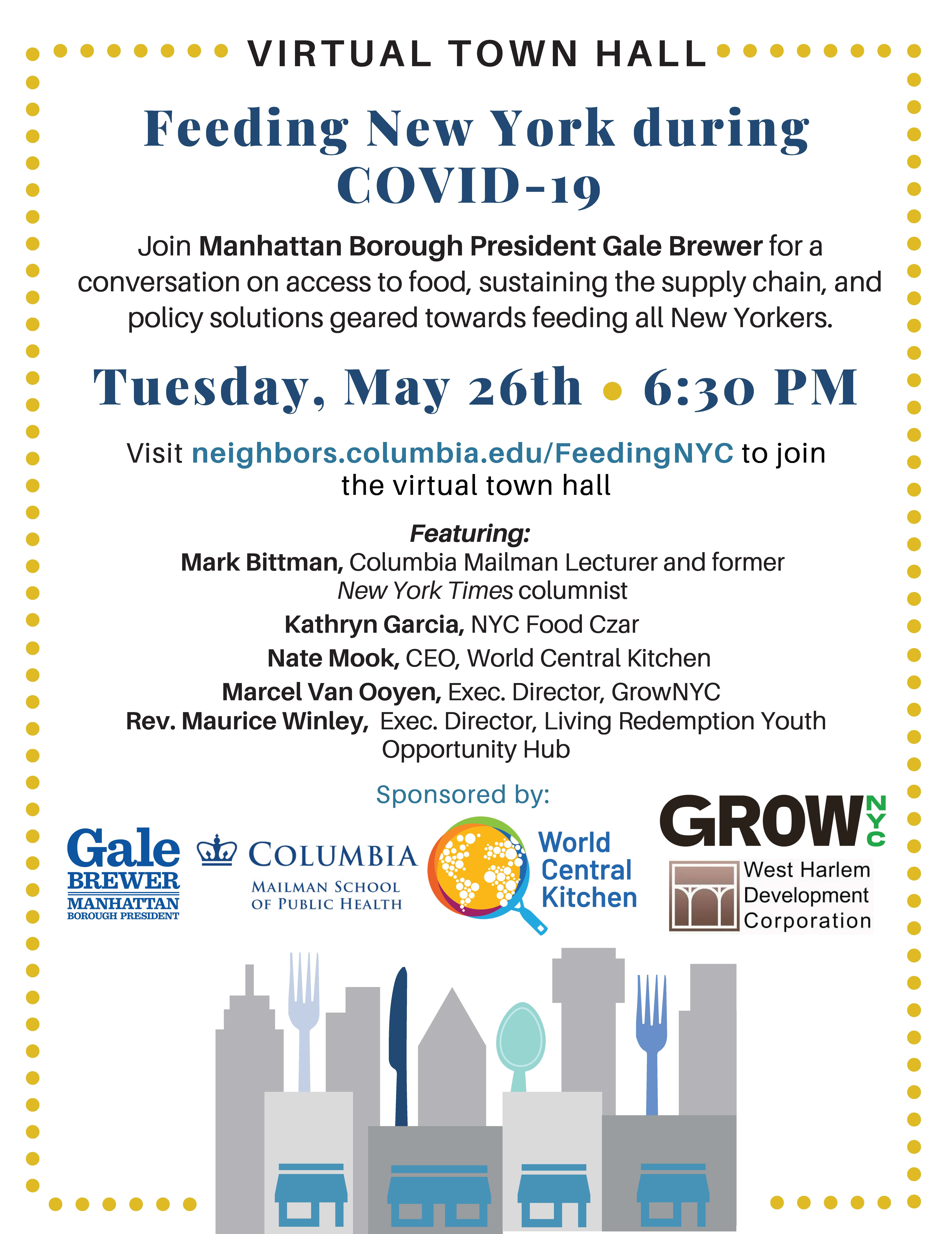 Coronavirus (COVID-19) FAQs & Resources
To get regular updates on the latest developments with coronavirus in New York City text COVID to 692-692. You will receive regular SMS texts with the latest news and developments. Please check nyc.gov/health/coronavirus for the latest updates
If you are experiencing stress or feel anxious, contact NYC Well at 888-NYC-WELL (888-692- 9355) or text WELL to 65173. NYC Well is a confidential help line that is staffed 24/7 by trained counselors who can provide brief supportive therapy, crisis counseling, and connections to behavioral health treatment, in more than 200 languages.
Additional resources:
CENSUS 2020
U.S. Census Bureau has made some necessary changes to help keep residents safe while still working to ensure a complete census count. This includes extending the national deadline for the count from July 31 to August 14 and postponing all door-to-door outreach campaigns until May. With the majority of our businesses and libraries closed across the state, this gives local communities more time to adjust their outreach plans and helps prevent our state from being put at an unfair disadvantage.
Fill out your Census at My2020Census.gov OR by phone in these languages: