SEPTEMBER 14th RESOURCES AND UPDATES:
Starting September 30th, restaurants in New York City can reopen for indoor dining with a limit of 25 percent capacity. All restaurants that choose to reopen must adhere to strict safety protocols, including temperature checks, face coverings when not seated, increased ventilation and air filtration standards, among other safety protocols. Bar service will not be permitted, and restaurants will close at midnight. We will reassess the guidelines on November 1st based on data. Read more about NYC's indoor dining reopening here. Call 833-208-4160 or text VIOLATION to 855-904-5036 to report capacity violations. (Open Restaurant outdoor dining will continue through 10/31)
Additional unemployment benefits for eligible New Yorkers affected by COVID will begin going out next week. The New York Department of Labor will start distributing an additional $300 a week in unemployment, which replaced the expired weekly $600 Federal Pandemic Unemployment Compensation (FPUC) benefit that many New Yorkers had been receiving. The Department of Labor will be contacting New Yorkers who may need to submit additional certification to qualify for the benefit.
Starting Monday, September 14th, the MTA will issue a $50 fine to riders who refuse to wear a mask on public transportation. Masks are always available at no cost if needed. There is no excuse for non-compliance. All New Yorkers must act responsibly and if a rider refuses to wear a mask — they will be fined.
The Long Island Railroad launched a new app to help you identify train capacity. Riders can use the app to help plan their commutes and identify which trains are the least crowded.
Four states have been added to the State's travel advisory. Visitors traveling from Delaware, Maryland, Ohio and West Virginia must quarantine upon arriving from NY. Puerto Rico and the U.S. Virgin Islands have been removed from the list. Learn more about NY's travel advisory.
New Yorkers can request an absentee ballot online now. This year, New Yorkers have several options to vote in this year's election: Early voting, absentee voting and in-person voting on Election Day. If you have concerns about COVID, you may request an online ballot now. Learn more.
You may return the ballot in any of the following ways:
Put it in the mail ensuring it receives a postmark no later than November 3
Drop it off at an early voting poll site between October 24th and November 1
Drop it off at a poll site on November 3 by 9pm
Drop it off at your County Board of Elections Office starting September 8 until no later than November 3 by 9pm (see list of County Board of Elections Offices below)
For a New York Times article on why aging responds differently to  COVID-19, click here.
The NY Department of Financial Services is extending action requiring New York health insurers to waive costs associated with COVID-19. New York insurers must waive cost-sharing for COVID-19 testing and in-network telehealth visits until November 9th. This extends the action put in place in March, which waived cost-sharing for COVID-19 testing and telehealth services.
A reminder to New Yorkers to get a flu shot. While we still handle COVID, flu season is fast-approaching. This year it is especially important that New Yorkers get their flu shot. Find a flu vaccination site near you.
Due to Rosh Hashanah (9/18 - 9/20), seniors and adults scheduled to receive GetFoodNYC kosher home-delivered food on 9/20 will instead receive their delivery on 9/21.
ree rapid COVID tests are available at these Test & Trace Clinic locations:
Schedule an appointment online here. Appointment slots are available up to a week in advance.
New ferry stop on the East 90 Street ferry. An extension of NYC Ferry's Wall St.-to-Astoria route now serves the E. 90th St. landing. The new connection comes at no additional operating or capital expense, and will not change travel time to or from existing landings on the Astoria route-- and expands travel options for Upper East Siders (at the same cost as a subway or bus ride).
Individuals experiencing homelessness can access a free shower station at 62 W. 138th St., with showers, toilets, hygiene kits and PPE available, Mondays, Wednesdays and Saturdays, 1 - 5 pm. The shower station is provided by the Salvation Army Harlem Temple, Coalition for the Homeless and Shower Power.
Reserve food at food pantries without waiting in line through the Plentiful app. Download the Android app or text FOOD to 726-879.
Governor Cuomo signed a proclamation recognizing September as Suicide Prevention Month and September 10 as Suicide Prevention Day in New York. The Office of Mental Health is launching a social media campaign to inform all New Yorkers that you can call the State's Emotional Support Helpline at 1-833-863-9314 for free emotional support, consultations and referrals to a provider.
With sunsets occurring sooner by minutes each day, now is the time to report malfunctioning, damaged or missing streetlights to the NYC Dept. of Transportation-- daylight savings time ends 11/1.
Nominate an individual or organization doing outstanding urban public health work for the Joan H. Tisch Community Health Prize. Nominations close 12/31.
Read the Northwell Health Lenox Hill Hospital monthly newsletter by clicking here.
Governor Cuomo signed legislation reconstituting the September 11 Workers Protection Task Force Bill. This Task Force, originally established in 2005, was created to obtain data regarding adverse health effects on workers who participated in rescue, recovery and response at Ground Zero and to make recommendations to improve access and scope of health programs assisting those workers and first responders.
Education/Parenting
The Dept. of Education has released the 2020-2021 school year calendar, which lists fully remote days, closures and parent-teacher conferences.
The State is requiring all school districts to report daily data on the COVID infection rate and new cases at every school. This information will be publicly available on a new online dashboard that will have constantly updated data for your school. This dashboard will provide parents, teachers and students with comprehensive COVID data for every school that will be updated on a daily basis, including positive infections of students and staff, and percentage of on-site students and staff who test positive.
In addition, the State launched a SUNY COVID-19 Case Tracker that provides real-time, up-to-date data on COVID-19 testing and other vital information at each of SUNY's 64 colleges and universities.Updated daily, the dashboard will provide case counts for each individual campus, among other data. The Department of Health will be issuing regulations to require colleges to notify the state when they have 100 COVID-19 cases and could have to transition to remote learning.
As in-person school instruction resumes, GetFoodNYC Grab and Go meal locations will continue Monday - Friday at 200 schools in high-need areas starting 9/21. To view updated locations later this month, see the GetFoodNYC map. Some will be dedicated kosher locations, and others will serve halal protein options.
Students learning in-person at a public school will receive both breakfast and lunch in school, and students at Learning Bridges locations will also receive breakfast and lunch on site. Families of students learning remotely can pick up free Grab and Go meals from any of the 200 schools, 9 am - 12 pm. Adults can pick up meals from 3 - 5pm.
State Senator Rebecca Seawright is sponsoring a No-Cost Vaccination Clinic- Tuesday, September 15, and Wednesday, September 30 from 9:30am-4:30pm at 1485 York Avenue (between 78/79 Streets). Call 212.288.4607 to make an appointment.
Last week, as teachers and staff were slated to return to their school buildings, the City announced that 10 buildings (six in Manhattan) aren't yet safe to reopen due to ventilation problems. If those problems haven't been addressed by 9/21, in-person instruction at these locations will begin in alternate spaces TBA. The affected Manhattan school buildings are:
NYC school families can join The New School's InsideSchools+ to help navigate the school system and this year's extraordinary challenges. The website offers discussion forums and classes, such as "How to Support Online Learning at Home," which is free and open for enrollment now.
 Comptroller Stringer's 2020-21 Back to School Guide. This school year begins at a time of unprecedented turmoil for students, families, educators, and the rest of our school communities. The Comptroller developed a 2020-21 Back to School Guide as a resource that school communities can turn to for support this year. Available in English, Spanish, and Chinese, the guide contains valuable information, links, and organizations to help students and families navigate following areas:
Parent Organizations & Family Engagement
Health, Safety, and Cleaning Guidance
Attendance
Virtual Learning
Mental Health & Emotional Wellness
Special Education Service
Multilingual Learners & English Language Learners
Child Care
Entertainment/Distractions
To track the changing colors of New York's landscapes, I Love NY released their first Fall Foliage Report of the year, tracking the changing colors in several regions throughout the state. Travelers who wish to capture the colorful scenery must follow all public health and safety guidelines.
For hip-hop fans, Sotheby's is auctioning hip-hop history. 
For information about the world's largest digital camera and its photos of broccoli, see the Smithsonian newsletter here.
For information about Met Opera ticketed performances, as well as evening opera streaming, here.
For an article on how food buying has changed during the pandemic, click here.
The Met Cloisters reopened on September 12. This weekend, the Cloisters, the Met's museum of European medieval art overlooking the Hudson River, joined other cultural institutions that have begun reopening with reduced capacity and timed entry. Read more about the reopenings of New York City's cultural institutions.
Our Town reports about the creativity of Lincoln Center in bringing the arts online, cautiously live, and around the City. Find it here and click on the links to see the performances, which enrich both performers and audiences.
Bryant Park Birding Tours have returned, Mondays, 9 am - 12 pm, and Thursdays, 5 - 6 pm, through 10/1. Advance registration is required.
Next Thursday (9/17) at 8 pm, watch the City Parks Foundation annual SummerStage Jubilee, with stories and songs by guests like Billie Jean King, Leslie Odom Jr. and Norah Jones. Stream on Instagram, YouTube or Facebook.
For fascinating online experiences (tickets required) and online journeys to obscure places, see Atlas Obscura here. There are New York places, experiences and secrets too.
WAYS YOU CAN HELP
There is a national shortage of poll workers, and New York State needs your help. Poll workers are essential to ensure that the election runs smoothly throughout New York's early voting period and on November 3rd, Election Day. The positions are PAID. To be eligible as a poll worker, you must be a registered voter in New York State.
The deadline for completing the U.S. Census has moved up to September 30th. It's more important than ever to ensure our communities are counted, so that we can receive our fair share of federal funding during these tough economic times. New York is also in danger of losing two Congressional seats. Statewide, the Census response rate is currently 59 percent. Please encourage everyone you know to fill our their Census form at my2020census.gov. Each individual response (multiply for families or others living in the same apartment) brings approximately $4000 in federal funding to New York City. If you are spending your summer outside New York City, you may complete the form with New York City as your residence. If you have a second home, please fill out any census form you may receive there with "0" residents if you filled out a census form previously with New York City as your primary residence.
Become a Climate Week Virtual Volunteer, 9/21 - 9/25. The Climate Museum offers volunteer opportunities for all ages. Register by 9/18 through the above Virtual Volunteer link.
Recovered COVID-19 patients are needed to donate plasma, which is used to treat critically ill patients across the country. Donate at a NY Blood Center location. Eligible donors can give convalescent plasma up to eight times in a three-month period.
Nominate an individual or organization doing outstanding urban public health work for the Joan H. Tisch Community Health Prize. Nominations will be accepted until December 31.
Wear a mask: The New York Times found that those ignoring the mask rule are nearly twice as likely to be men as women. Watch a New York 5-year-old explain why everyone should wear a mask
THE CITY is asking folks who know any New York City residents who have died of COVID-19 to fill out a simple form to tell them about the lives of those we've lost. Their goal is to put as many names, faces and details to the numbers as possible. You'll find more here — including the form.
Donate blood. The New York Blood Center says that levels of blood are dangerously low. To make an appointment to donate, visit nybc.org or call 1.800.933.2566. Appointments are strongly recommended.
Support local businesses by buying gift cards. We have posted links to sites selling gift cards. Another site selling gift cards to restaurants, barber shops, and events like ghost hunts, and museums, see SupportLocal at https://supportlocal.usatoday.com/cities/
New York City Service is looking for volunteers to help those affected by COVID-19, click here.
New York State has provided a form for the donation of goods, services, or space. To access the form, click here.
The dedicated staff at the Stanley Isaacs Center, 415 E. 93 St., needs help supporting their older adult clients through meals and case management services. Interested in volunteering? Contact [email protected]
FINANCIAL AND LOCAL BUSINESSES UPDATES
Gov. Cuomo and Attorney General James have delayed the City's annual tax and water lien sale until at least 10/3. New Yorkers now have an additional three weeks to pay their overdue property, water and sewer charges; set up a payment plan with the NYC Dept. of Finance; or obtain an exemption (the City's website doesn't yet reflect the delay to 10/3). Property owners have received four notices since February about outstanding debt. It's best to pay back the charges before the sale, because the buyer of your debt will add fees and interest to what you owe.
Tuesday (9/15) at 6 pm, learn about "Tenants' Rights During the COVID-19 Pandemic" through a webinar hosted by Housing Conservation Coordinatorsand Community Board 4, which covers Chelsea and Hell's Kitchen. Stream on Zoom or YouTube.
Next Thursday (9/17) at 2 pm, join Womankind for a discussion, "Rising Domestic Violence and Abuse During COVID-19: How Workplaces Can Help Those in Need." Register by 9/15 here.
Additional unemployment benefits for eligible New Yorkers affected by COVID will begin going out next week. The New York Department of Labor will start distributingan additional $300 a week in unemployment, which replaced the expired weekly $600 Federal Pandemic Unemployment Compensation (FPUC) benefit that many New Yorkers had been receiving. The Department of Labor will be contacting New Yorkers who may need to submit additional certification to qualify for the benefit.
 CARES funding will be directed to assist child care providers in reopening. Child care is essential to getting people back to work and $88.6 million in federal CARES funding will be made available to assist child care providers in the State. Starting next week, child care providers may apply for funding here. The application period will be open through December 31st.
New York State is providing funding for workforce development. Across the State, 66 businesses, schools and community-based organizations have been awarded nearly $9 million to support job training opportunities for more than 3,600 New Yorkers adapting to the post-COVID economy. New York's Workforce Development Initiative will help support workers who are helping our ongoing efforts to Build Back Better.
Welcome Back Saturdays on Madison Avenue: 9/12, 9/26 & 10/3. To celebrate the launch of the fall season and re-introduce shoppers to over 300 businesses, the Madison Avenue B.I.D is organizing "Welcome Back Saturdays" starting on September 12. Each Saturday will focus on a different 10-block area, presenting the public with new shops and restaurants to explore each week. For more details, please visit MadisonAvenueBID.org.
The Dept. of Small Business Services has launched Career Discovery NYC, a free career search and skills training tool.
If you're a property owner or building manager, please advise your staff and residents to allow (properly identified) Census enumerators into the building to visit those residents who have not completed their census forms.
Restaurant & Bar Reopening Toolkit – Find all the guidelines and resources you need in one place, including checklists, Open Restaurant siting criteria, and posters. Download it here, and find additional guidance and resources for restaurants on SBS' restaurant reopening guide here.
Find Outdoor Dining Fixtures & Equipment – Please click here for the City's directory of equipment rental fixtures & equipment for safe outdoor dining.
Apply by Sept. 29 for Manhattan Arts Grants from Lower Manhattan Cultural Council.
Now until Sept. 15, the City's Dept. of Buildings is offering to inspect business signage at no cost and without penalty. Small business owners can take advantage of these inspections and avoid issues later by bringing their signs up to code now if any deficiencies are found. Call 311 for an appointment.
The Department of Small Business Services (SBS) will work to ensure that the most up-to-date guidance and materials needed by small business owners for a safe phased-in reopening are readily available. The information will be housed on a centralized resource page with guidance and best practices for the restaurant industry across all five boroughs. SBS will also launch a reopening supplies marketplace for easy access to wholesalers selling PPE, gloves, sneeze guards and other equipment. Business owners can call a hotline at 1-888-SBS-4NYC to ask questions about this process.
PPE for Small Businesses: NYC SBS coordinating with 70+ BIDs and Chambers of Commerce to provide 2 million pieces of PPE to small businesses citywide. Find a distribution partner near you at: Free Face Coverings for Small Businesses & Their Employees
The City's Department of Small Business Services has shared their new "Find a Job" page, which lists open employment listings from across NYC. Learn more and search the listings.
Both the City and State are hiring employees and supervisors for contact tracing: reaching out to the contacts of those diagnosed with COVID-19 to track the spread. Learn more here for the City (three types of contract tracer jobs along with many non-tracing jobs listed), and here for the State (contact tracers, team supervisors, and community support specialists).
LOCAL ELECTED OFFICIALS' TELE-TOWN HALLS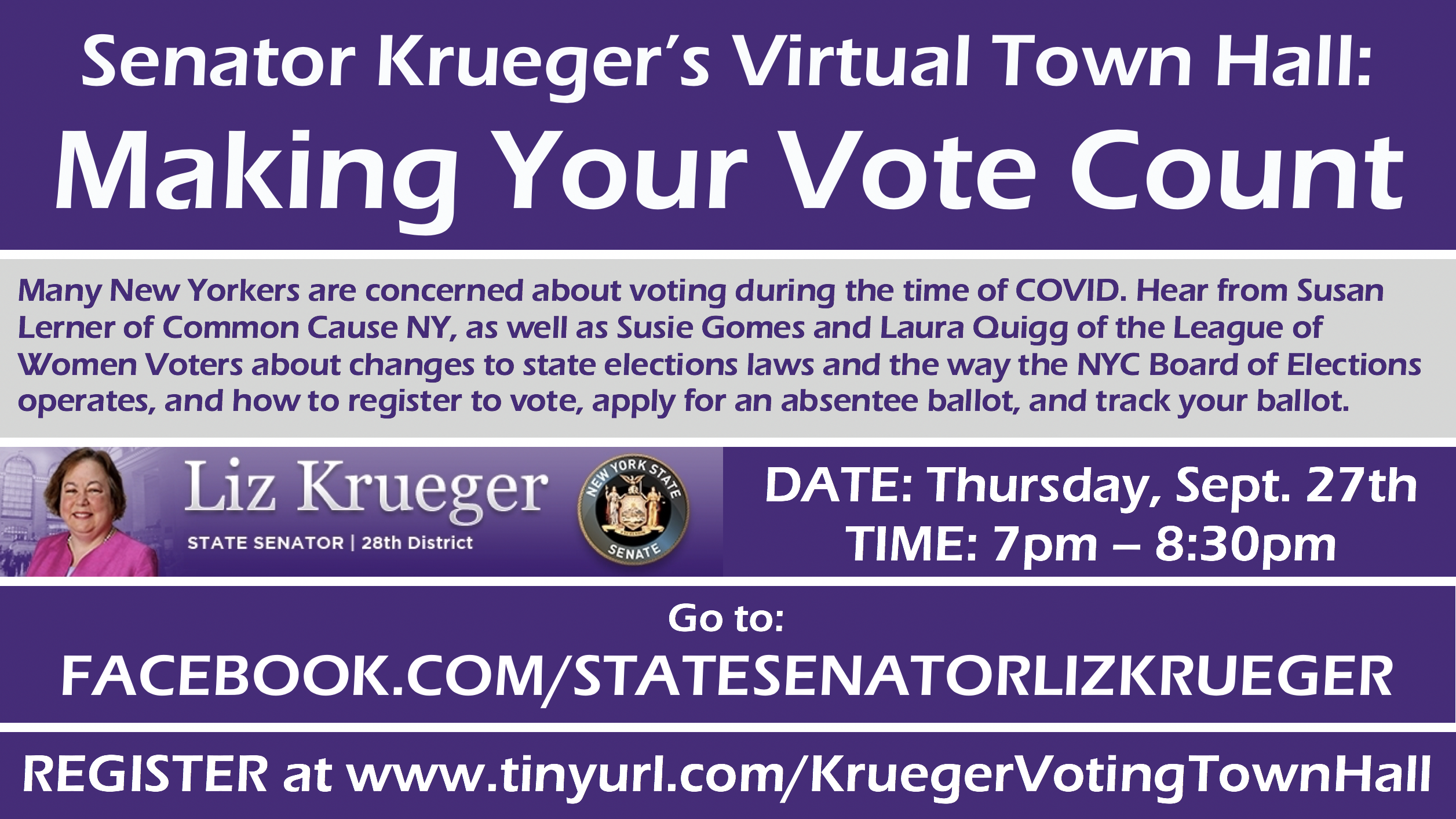 Coronavirus (COVID-19) FAQs & Resources
The State's Coronavirus Hotline is open 24 hours if you have any questions or concerns: 1-888-364-3065. **If you need help getting medical care, you can also call 311. New York City will provide care regardless of immigration status or ability to pay.
The NYP COVID Hotline 646-697-4000 can answer questions about COVID-19. This hotline is a public service to provide information only and not to diagnose, treat, or render a medical opinion. Their Coronavirus Frequently Asked Questions document is available on the NYP Coronavirus website.
To get regular updates on the latest developments with coronavirus in New York City text COVID to 692-692. You will receive regular SMS texts with the latest news and developments. Please check nyc.gov/health/coronavirus for the latest updates
If you are experiencing stress or feel anxious, contact NYC Well at 888-NYC-WELL (888-692- 9355) or text WELL to 65173. NYC Well is a confidential help line that is staffed 24/7 by trained counselors who can provide brief supportive therapy, crisis counseling, and connections to behavioral health treatment, in more than 200 languages.
Additional resources:
CENSUS 2020
U.S. Census Bureau has made some necessary changes to help keep residents safe while still working to ensure a complete census count. This includes extending the national deadline for the count from July 31 to August 14 and postponing all door-to-door outreach campaigns until May. With the majority of our businesses and libraries closed across the state, this gives local communities more time to adjust their outreach plans and helps prevent our state from being put at an unfair disadvantage.
Fill out your Census at My2020Census.gov OR by phone in these languages:
Coronavirus (COVID-19) – Past Updates from CB8