MAY 4th RESOURCES AND 

UPDATES

:
Beginning Thursday, April 29, all New York State mass vaccination sites are open to eligible New Yorkers for walk-in vaccination on a first-come, first-serve basis for all. The walk-in appointments are reserved for first doses only—second-dose appointments will be scheduled immediately after New Yorkers receive their first dose. This new approach means any eligible New Yorker age 16 and older will be able to walk into any mass vaccination site and walk out with a shot in arm, eliminating the need to make an appointment online or by phone.
New York will adopt the new CDC mask guidance for fully vaccinated people. Fully vaccinated individuals can conduct outdoor activities or gather without wearing a mask outdoors except in certain crowded settings and venues. Read the full CDC guidance.
Yesterday, in union with New Jersey Governor Phil Murphy and Connecticut Governor Ned Lamont, Governor Cuomo announced the easing of pandemic restrictions related to the tri-state region's businesses, venues and gatherings. Most capacity limits will be lifted on May 19, including retail, food services, gyms and fitness centers, amusement and family entertainment, hair salons, barbershops and other personal care services. Capacity limits for houses of worship will also lift.
Beginning May 17, the MTA will resume full 24-hour subway service. The MTA will continue its unprecedented disinfection and cleaning effort. The resumption of 24-hour service will coincide with the lifting of the 12am food and beverage service curfew for outdoor dining areas.
COVID hospitalizations in NY are at 2,539. Of the 113,139 tests reported yesterday, 2,200, or 1.94 percent, were positive. The 7-day average positivity rate was 1.79 percent. There were 613 patients in ICU yesterday, down 24 from the previous day. Of them, 379 are intubated. Sadly, we lost 37 New Yorkers to the virus.
As of 11am this morning, 46.6 percent of New Yorkers have completed at least one vaccine dose. Over the past 24 hours, 91,035 total doses have been administered. To date, New York has administered 15,734,364 total doses with 35.2 percent of New Yorkers completing their vaccine series. See data by region and county on the State's Vaccine Tracker: ny.gov/vaccinetracker.
Event venues can expand capacity starting May 19. Large-scale indoor event venues will operate at 30 percent capacity. Large-scale outdoor event venues will operate at 33 percent. Social distancing, masks, and other applicable health protocols will still apply, including the requirement that attendees have proof of full vaccination or a recent negative COVID-19 test result.
Expanded residential gathering limits. The outdoor residential gathering limits of 25 people will be removed on May 19, and the indoor residential gathering limit will increase from 10 to 50 people.
Walk-ups for All Eligible New Yorkers: All eligible New Yorkers can now walk up to get vaccinated without an appointment. Walk-up vaccinations are happening at these locations: on.nyc.gov/walkupvax.
City resumes Johnson & Johnson vaccine: NYC has resumed using the safe and effective Johnson and Johnson vaccine, after federal agencies announced full confidence that the benefits of the vaccine outweigh the risks. J&J vaccinations for homebound New Yorkers will resume starting the week of Monday, April 26th, and pop-ups, mobile buses and vans will resume J&J vaccinations over the next several weeks, once already-allocated Moderna vaccines are used. Information about which vaccines are being offered at which sites is available at vaccinefinder.nyc.gov or 877-VAX-4-NYC.
Governor Andrew M. Cuomo today announced that the New York City Subway will resume 24 hour a day service beginning May 17. In April, MTA New York City Transit officials announced 2,009,025 trips were recorded on the subway on April 8, the first time that more than two million trips were taken on the subway since the onset of the COVID-19 pandemic in New York City. The MTA will continue its unprecedented disinfection and cleaning effort. More than 75 percent of MTA customers agree the subway has never been cleaner. The resumption of 24-hour service will coincide with the Governor's announcement lifting the 12 a.m. food and beverage service curfew for outdoor dining areas.
Schedule a NYC Vax Bus appointment: Starting Wednesday, April 28, you can schedule an appointment at a mobile NYC Vax Bus through the Vax4NYC website. The buses will continue to provide walkup vaccinations for all New Yorkers 18 and up.
Beginning May 17, the 12am outdoor dining area curfew for bars and restaurants will be lifted. The 12am indoor dining area curfew will be lifted on May 31. We will also lift the 1am curfew for catered events where attendees have provided proof of vaccination status or a recent negative COVID-19 test result beginning May 17 (with the curfew for all catered events set to be lifted May 31).
Starting May 3, seating will be allowed at bars in New York City. Lifting this restriction will make New York City consistent with the food services guidance currently in effect in the rest of the state.
Catered events can resume at private residences beginning May 3. Events can be held above the State's residential gathering of 10 people indoors and 25 people outdoors, as long as the events adhere to safety guidelines and they are staffed by a professional, licensed caterer and do not violate any local or municipal laws.
Weill Cornell Medicine is currently scheduling COVID-19 vaccine appointments (Pfizer) through its Connect patient portal. The vaccination site is at the Belfer Research Building 413 East 69th Street. Those interested in being vaccinated can create an account and login at https://weillcornell.org/weill-cornell-connect
Due to nearby in-water construction, the Roosevelt Island ferry landing will be temporarily closed from Tuesday, May 4 through Thursday, May 6. Astoria route ferries will bypass Roosevelt Island in both directions during this time. Visit ferry.nyc or download the NYC Ferry app for the most up-to-date timetables and service alerts. As a reminder, masks are required at all times while onboard, and tickets must be purchased prior to boarding.
The New York Public Library is excited to announce the launch of Phase 2 of its reopening plan, which will initiate expanded service at select branch and research libraries, on Monday, May 10th.
Branch Libraries: On May 10th, 26 of the branch libraries currently open for grab-and-go service will expand offerings to include desktop computer use, printing, and limited browsing. Patrons can check out library materials through self-serve kiosks, the NYPL app, or self-assisted check-out. Desktop usage will be limited to 45 minutes per session while laptop lending will be available at a later stage. The 26 Branches moving to Phase 2 can be found on our website.
Research Libraries: All of NYPL's research libraries will open limited spaces to patrons. Onsite access to these spaces is available by appointment only, and appointments can only be made following a virtual consultation with research staff. We will continue our scan and deliver program as well as onsite activities such as cataloguing, digitization, and conservation. Patrons will still be able to pick up materials through a grab-and-go model.
Health and Safety Protocols: As reopening moves forward, NYPL will maintain its strict health and safety protocols which have been followed to a great degree of success. This includes mandatory masks and physical distancing inside branches, temperature checks, and PPE/branch design adjustments to meet health and safety standards.
While we are pleased to share this next step, we want to reiterate that the safety of our staff and the public remains our number one priority. All reopening protocols and guidelines are the result of consultations with health and safety experts, the City, our Union, Branch Staff, and fellow library systems, Brooklyn and Queens Public Library. Our ultimate goal continues to be the reopening of all branches and to provide the full range of programs and services, but only when it is safe to do so. As with the initial launch of Phase 2 in November 2020, we continue to monitor the health and safety circumstances in the city. If the situation worsens, we will not hesitate to adjust this date as we did before.
During Phase 2, NYPL will maintain its expanded digital programming and virtual presence which includes services such as remote one-on-one career counseling, tutoring to support distance learning, TechConnect classes, scan and deliver for researchers, and live story times, among others. For those patrons without internet access, we continue to offer services like ShelfHelp, where librarians prepare bundles of books for pickup based on patrons' interests. You can learn more about grab and go service, open locations, and remote offerings on our website.
The New York Times reports the U.S. is unlikely to reach herd immunity anytime soon, experts believe, but vaccinating the most vulnerable may be enough to restore normalcy.
May is Asian American and Pacific Islander (AAPI) Heritage Month. As we celebrate and recognize the contributions of Asian Americans and Pacific Islander Americans to our history and culture, we reaffirm our commitment to standing against any act of intolerance against our AAPI brothers and sisters.
All New York State mass vaccination sites are currently open to eligible New Yorkers for walk-in vaccination on a first come first serve basis. Walk-in appointments are reserved for first doses only with second doses to be scheduled after administration of your initial shot. If you would like to make an appointment you can do so at NYC Vaccine Finder or through the Am I Eligible App.
Effective May 3: Catered events can resume at residences above the State's residential gathering limit of 10 people indoors and 25 people outdoors, as long as the events are staffed by a professional, licensed caterer, permitted by the respective locality or municipality, and strictly adhere to health and safety guidance, including social and event gathering limits, masks, and social distancing.
Effective May 3: Guidance for dancing among attendees at catered events will be aligned with neighboring states, replacing fixed dance zones for each table with social distancing and masks.
Effective May 3: seating at bars will be allowed in New York City, consistent with the food services guidance that is in effect statewide
Effective May 7: Indoor dining, hair salons, barber shops & personal care services expand to 75% capacity
Effective May 7: NYC gyms/fitness expand to 50% capacity
Effective May 19th: Most capacity restrictions will end across the tri-state region. This includes retail, food services, gyms, fitness centers, amusement and family entertainment, offices, hair salons, and barber shops.
The 12 a.m. food and beverage service curfew will be lifted for outdoor dining areas beginning May 17 and for indoor dining areas beginning May 31
The State will distribute $6.7 million in relief aid to New York's seafood, marine commercial, and for-hire fishing industries. This aid comes after excessive business losses due to the COVID-19 pandemic. New York State will distribute an additional $5.7 million in the coming months, for a total of $12.4 million, through the Marine Fisheries Relief Program, which administers federal funding provided by the Coronavirus Aid, Relief and Economic Security Act.
The Executive Order establishing the micro-cluster zone strategy will be rescinded in light of our continued progress. Due to improving numbers, it's time to loosen some restrictions put in place to protect the public health and help our local businesses. Applicable state public health guidance must still be followed for all industries.
The City strongly encourages all health providers to recommend that their patients get vaccinated. Providers who want to find out more, including tools to have these conversations, visit nyc.gov/VaccineTalks.
If you're uninsured, there are still a few weeks left to sign up for Obamacare/ACA health insurance (the deadline is Saturday, 5/15). There are new subsidies included in the American Rescue Plan that make Obamacare more affordable than ever. Apply through the New York State marketplace or directly through insurers. If you have questions, make an appointment with a local marketplace navigator, who can help individuals, families, and small businesses choose an affordable plan.
Tuesday (5/4) at 3 pm, Manhattan Borough Historian Rob Snyder and CUNY's Gotham Center host a virtual panel on how historians, archivists, and documentarians can respond to the pandemic, "COVID One Year On: What Have We Learned, What Comes Next?" Join the Zoom here.
Education/Parenting
Schools are invited to join MS 131 in their "Stop the Hate Ribbons of Hope Campaign," raising awareness of and supporting the movement calling for the end of violence and harassment against Asian Americans. Students can write their hopes and dreams on red, white, and blue ribbons to symbolize that everyone belongs in communities free of violence and harassment. Then, on Friday, 5/21, students can tie the ribbons to their school or home, take a picture, and send it to [email protected]. Schools can pick up ribbons from MS 131 (100 Hester St.) until Friday (5/7) at 1 pm.
Youth 14-21 years old are invited to join the NYPD Housing Bureau's Youth Leadership Council. YLCs meet twice a month virtually and train with NYPD officers the first and third Tuesdays of every month, building life skills, leadership abilities, and physical fitness. Apply here.
Thursday (5/6) at 5 pm, "Supporting Families of Students with a Disability in Fostering Student Independence during Remote Learning" is the topic of the weekly virtual "Parent Guide to Remote Learning" series from Rep. Adriano Espaillat and the NYC Dept. of Education. Register here.
Riverside Park camp applications are now open. The Multi-Sport Summer Camp is expanding north to new locations in Fort Washington Park, with basketball, soccer, and tennis for kids ages 4-14 (and for tennis, kids up to 16 years old are encouraged to sign up). Trailblazers, a new nature-based camp, features hands-on science experiments, group play and challenges, team building, nature exploration, and art. Need-based scholarships are available for both camps.
FREE PROGRAM FOR TEENS: First, the Stellla Adler Studio has a free, five-week summer program for NYC teens. Summer Shakespeare is part of the Arts Justice Division. The main goal of this program is to empower participating students. They aim to reach young people who are passionate and impacted by poverty. Full details are online here: https://stellaadler.com/arts-justice/summer-shakespeare-program/.  The program is supported in part by the city council and funds from the Department of Cultural Affairs and has been featured by the Wall Street Journal, NY1 and others for its excellence.
 FREE COMMUNITY PERFORMANCE: The Stellla Adler Studioare is also organizing a free community performance of a Shakespeare play. They are seeking NYC community partners who might be interested in sharing news about the performance to their communities some time from June 23-July 9. They plan to perform outdoors.
The US Dept. of Agriculture has announced it will extend universal free lunch through the 2021-2022 school year "to reach more of the estimated 12 million youths experiencing food insecurity."
For K-8 students, applications are opened for Summer Rising, the City's new, free academic and enrichment summer program that creates a bridge back to school. Summer Rising combines academic classes, field trips, arts activities, and outdoor recreation. Programs will be run by local school leaders and trusted community-based organizations, and will offer breakfast, lunch, and a snack. The application can be found here.
Schools can get free U.S. maps from the Census Bureau. Contact Joli Golden at [email protected] or 862-336-2911 to order.
Distractions
An arts project is using vacant New York City storefronts to spark interest in the arts and brighten up the community. Barbara Anderson created the Art on the Avenue NYC project and transformed storefronts in Greenwich Village into colorful galleries for local artists to feature their work. This is the project's second iteration; the first took place in June of last year on Columbus Avenue.
The Buffalo Marathon will return on June 26 and June 27. This year will be the marathon's 20th anniversary, and the race will operate at roughly 50 percent of its typical capacity. Using the Buffalo Marathon as a model, the State's sports and recreation guidance will be updated with health protocols for running races to better help localities plan these events.
Riverside Park's outdoor arts and culture festival, Summer on the Hudson, is back. Click the link above for the schedule of virtual and in-person events.
Midori & Friends is hosting a series of free, virtual, family-friendly concerts this spring. The list of concerts can be found here.
Through Wednesday (5/5), the Marlene Meyerson JCC Manhattan's 13th Annual ReelAbilities Film Festival screens films promoting awareness and appreciation of the lives, stories, and artistic expressions of people with disabilities. See the schedule here.
Tuesday (5/4) at 1 pm, take a free virtual tour of the Garment Center Business Improvement District with licensed tour guide Mike Kaback. Sunday (5/9) at 11 am, he offers a virtual tour of the Flatiron District. Email [email protected] to register for tours.
Tuesday (5/4) at 6 pm, cosmetics mogul Leonard Lauder discusses his new memoir, "The Company I Keep: My Life in Beauty," during the next Hunter@Home. Register for the Zoom here.
Wednesdays at 5:30 through 5/19, the American Symphony Orchestra hosts free chamber music concerts in Herald Square Plaza (35th St. and Broadway). Click the link above for more information.
Thursday (5/6) at 5 pm, virtual lecture "What Americans Want from Reform" discusses calls for government reform, hosted by the NYU Institute for Public Knowledge. Click the title to register.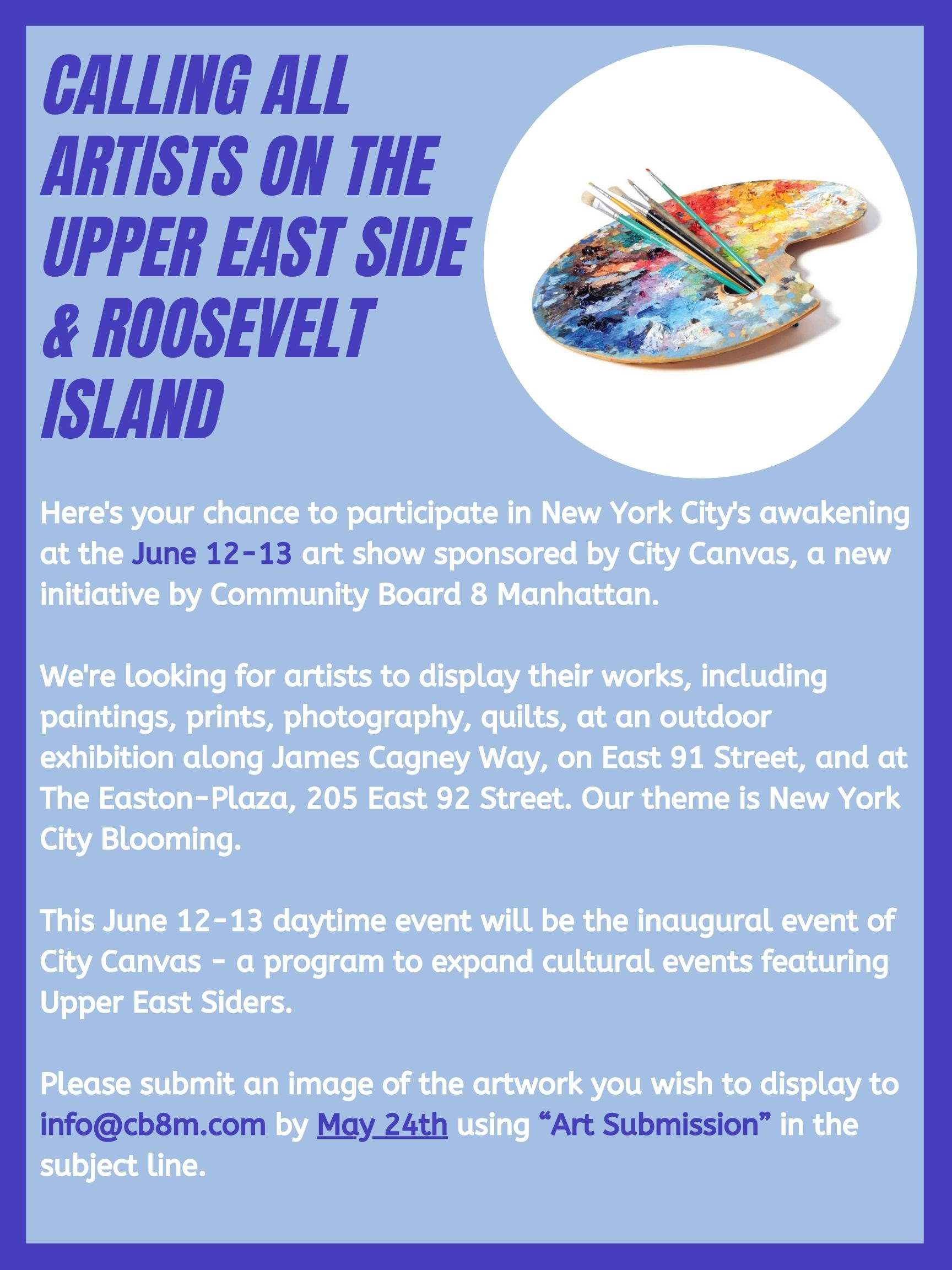 FINANCIAL AND LOCAL BUSINESSES 

UPDATES
This week, the Fair Share NYC: Restaurants program launched to connect restaurants to federal relief funds. The federal Restaurant Revitalization Fund (RRF) provides non-taxable grants to restaurants hit hardest by the COVID-19 crisis. Individual restaurants may qualify for up to $5 million and restaurant groups may be eligible for up to $10 million in grant funding. More information here.
Small Business Economic Support Programs. More than $155 million will be allocated for small business recovery and job training in emerging markets in New York City's Executive Budget for Fiscal Year 2022 (FY22). Since the beginning of the pandemic, the NYC Department of Small Business Services has launched 28 initiatives to help small businesses and jobseekers stay resilient. The FY22 Executive Plan is expected to reach 40,000 businesses across the five boroughs. More information here.
Important news for restaurants impacted by the COVID pandemic. The Restaurant Revitalization Fund, passed as part of the American Rescue Plan in March, began accepting applications TODAY (5/3).
According to the U.S. Small Business Administration, "This program will provide restaurants with funding equal to their pandemic-related revenue loss up to $10 million per business and no more than $5 million per physical location." Any Paycheck Protection Program payments made last year will be deducted from the total grant amounts.
The key facts: 
This $28.6 billion fund is FIRST-COME, FIRST SERVED;
$5 billion of the total fund will be distributed only to businesses with gross receipts of $500,000 or less in calendar year 2019;
Chains of over 20 locations are ineligible.
Here's the link to the SBA's RRF information page, including a sample application.
The federal Paycheck Protection Program deadline has been extended to Monday, 5/31. The NYC Dept. of Small Business Services has compiled an information page for applicants. View a list of eligible lenders here to begin your application, or call 888-SBS-4NYC.
The Shuttered Venue Operators Grant portal is now open for  companies and nonprofits that operate live-performance venues, talent/management agencies, and others for up to $10 million in relief from the Save our Stages Act in the December stimulus bill via the U.S. Small Business Administration. Applicants can get help preparing their applications from the NYC Dept. of Small Business Services' Curtains Up program. Applicants can apply for a SVO grant even if they've previously received Paycheck Protection Program loans (the PPP amount will be deducted from the SVO grant).
Applications are due next Monday (5/10) for the Morgan Stanley Community Development Graduate Fellowship, a 10-month program for NYC graduate students in urban planning and policy. Fellows will work with Association for Neighborhood & Housing Development host organizations for 20 hours a week from September to June and receive a $20,000 stipend and other benefits. Apply here.
Applications are now open for a scholarship to pursue a tuition-free New York Institute of Technology MA in Teaching for those interested in teaching STEM to grades 7-12. Learn more about the NYIT Robert Noyce Teacher Scholarship here.
Apply for a job as a rain garden maintainer with the NYC Dept. of Environmental Protection. They're hiring full-time, seasonal (8-month) workers at $16.63/hour. Find the application by going to nyc.gov/careers and searching for job ID #458227-Rain Garden Maintainer.
Wednesday (5/5) at noon, webinar "The Steps to Financial Adulthood" covers financial principles like emergency funds, savings and expenses, credit card debt, tax withholding, investment allocation, retirement plans, insurance selection, and necessary estate documents. Click the title to register for the event, part of the New York Public Library's Thomas Yoseloff Business Center "Money Matters" series.
You can start preparing your documents now to get $800 toward an air conditioner or fan, known as the Home Energy Assistance Program Cooling Assistance Benefit. This link explains eligibility and necessary documents for when applications open Saturday, 5/3 for the first-come-first-served benefit.
Free tax prep services are available for New Yorkers who made less than $68,000 in 2020. The City is also looking for volunteer tax preparers. Tax Day is Monday, 5/17.
Apply by Friday, 5/7 for the full-time, paid Lincoln Center Workforce Development Program, which trains workers to do construction on the Center's David Geffen Hall. Participants will get five weeks of paid training, a paid apprenticeship to work on the renovation, and future career opportunities. Apply here.
Essential workers can apply for grants of up to $1,000 to reimburse childcare, transportation, lodging, PPE, burials, or medical costs incurred because of your work responding to the pandemic. Apply by Tuesday, 6/15 for these grants from the State's Empire Pandemic Response Reimbursement Fund.
Contemporary visual art writers can apply for grants of up to $50,000 from the Andy Warhol Foundation through Wednesday, 5/19. Apply here.
City Cleanup Corps is Hiring: The City Cleanup Corps (NYC CCC) will employ 10,000 New Yorkers for beautification across our city. NYC CCC workers will wipe away graffiti, powerwash sidewalks, create community murals, tend to community gardens, beautify public spaces, and work with community organizations to clean their neighborhoods. Check out available job opportunities.
Applications for the NYC Open Streets program are now open. Administered by the NYC Department of Transportation, the program allows communities to dedicate roadway space to pedestrians and cyclists. Interested businesses and community partners can learn more and apply now at: nyc.gov/openstreets.
Open Culture program - Artists can apply for outdoor performance permits on these streets through Sunday, 10/31 and can charge admission.
East Side and Roosevelt Island low-income tenants can get free housing legal advice from the Tenant Advice Helpline through Lenox Hill Neighborhood House. Leave a message at 212-218-0330, and the legal team will return your call within a week.
The Biden administration has extended the pause on most federal student loans -- due to expire Sunday (1/31)-- through 9/30, which means payments are suspended, collections on defaulted loans are stopped, and the interest rate is 0% through September. The Federal Student Aid Office's website has a detailed FAQ about eligibility.
NYC created "What to Expect When You're Inspected: NYC Indoor and Outdoor Dining Checklist for Participating Establishments." Check it out here. 
The Mayor extended the City's Open Storefronts program through 9/30/21, allowing storefront retail businesses to continue operating directly outside their store. Plan now for warmer weather; read the FAQ for eligibility and operating guidelines, and apply here.
The City's Department of Small Business Services has shared their new "Find a Job" page, which lists open employment listings from across NYC. Learn more and search the listings.
WAYS YOU CAN HELP
Donate personal care items to fill the 700 gift bags Community Board 10 is presenting to seniors in Central Harlem next month. Click here to see the list of needed items.
Become a New York State Citizen Public Health Leader. To continue the fight against COVID and prepare for the next public health emergency, the State launched a free, online Citizen Public Health Training course for New Yorkers, in partnership with Cornell University and supported by the State University of New York. This program will prepare and equip New Yorkers to become Citizen Public Health Leaders and build an informed network of community health leaders across the state. Enroll today.
Invisible Hands is a nonprofit that helps neighbors challenged by COVID-19 by performing essential delivery of food, medicine and other necessities throughout NYC, Long Island, Westchester, New Jersey and Philadelphia. Volunteers can either perform deliveries in their neighborhood or work remotely in the call center or delivery center. Volunteers needed in all areas of NYC to perform deliveries in their local neighborhood or by car. Remote volunteers take orders from clients, field inquiries and also troubleshoot existing orders. You should be comfortable using Slack, internet telephone, and Zoom. Visit https://invisiblehandsdeliver.org/ for more information.
Order directly from restaurants, not from delivery apps. See why the New York Times.
Businesses and organizations can donate extra food and supplies to local organizations that can then redistribute them. Details about eligible donors and recipients can be found online: For food donations visit nyc.gov/donatefood; for non-food donations, visit nyc.gov/donate.
The pandemic has caused declines in organ donations. With so many people awaiting lifesaving organ transplants, Governor Cuomo urges New Yorkers to become organ donors and join the NYS Donate Life Registry.
THE CITY is asking folks who know any New York City residents who have died of COVID-19 to fill out a simple form to tell them about the lives of those we've lost. Their goal is to put as many names, faces and details to the numbers as possible. You'll find more here — including the form.
Donate blood. The New York Blood Center says that levels of blood are dangerously low. To make an appointment to donate, visit nybc.org or call 1.800.933.2566. Appointments are strongly recommended.
New York City Service is looking for volunteers to help those affected by COVID-19, click here.
New York State has provided a form for the donation of goods, services, or space. To access the form, click here.
The dedicated staff at the Stanley Isaacs Center, 415 E. 93 St., needs help supporting their older adult clients through meals and case management services. Interested in volunteering? Shifts: Meal Plating from 7:00am-9:00am; Meal Delivery from 9:45am-1:00pm; Cold Packing from 10:00am-1:00pm. Contact communitysupport@isaacscenter.org
LOCAL ELECTED OFFICIALS' TELE-TOWN HALLS 
Senator Krueger's Virtual Town Hall: 
"Managing Debt"
Thursday, May 6th, 7 pm – 8:30 pm
Behind in rent and credit card payments? Has the collection agency been in touch with you? You are not alone. During the pandemic many of us are facing economic hardship. These challenges are new to most of us. Join us for a discussion of your rights and responsibilities as you confront those unpaid bills and manage your debt.
Join us for a discussion to learn the best approaches to handle unpaid rent, utility, medical, and credit card bills. What are the steps to take if you hear from a collection agency? Learn best practices and requirements from the experts.
Speakers:
- Ellen Davidson, Staff Attorney, Civil Practice, Legal Aid Society
- Sarah Ludwig, Founder and Co-Director, New Economy Project
- Raquel Villagra, Staff Attorney, New Economy Project
You will have the option of joining the event online through Zoom, a webinar hosting service. You will also have the option to view the event online through Facebook. Please note that you do not need a Facebook account or profile to view the event through Facebook. If you do not have access to a computer, tablet, or other electronic device, you can listen in by telephone.
**Once you register for the event, you will receive a confirmation email with the Zoom and Facebook links, and the call-in information.**
The event will feature a question and answer session with Ellen Davidson, Sarah Ludwig, and Raquel Villagra. If you have questions about how to deal with your landlord or creditors about your debt, how to protect your assets, or if you are seeking clarity on what your rights are, please RSVP for this event. Attendees will be able to submit questions through Zoom and Facebook during the event but are strongly encouraged to submit them in advance.
Please let us know if you plan to attend on May 6th by registering at https://tinyurl.com/townhallmanagingdebt.
With the June 22 primary election less than two months away and Manhattanites still new to ranked choice voting, Manhattan BP Gale Brewer is hosting a virtual seminar about the new voting process next Tuesday (5/11) at 6:30. She'll cover what the ballot will look like, how to rank candidates, and how votes will be counted. Register here.
Coronavirus (COVID-19) FAQs & Resources
The State's Coronavirus Hotline is open 24 hours if you have any questions or concerns: 1-888-364-3065. **If you need help getting medical care, you can also call 311. New York City will provide care regardless of immigration status or ability to pay.
The NYP COVID Hotline 646-697-4000 can answer questions about COVID-19. This hotline is a public service to provide information only and not to diagnose, treat, or render a medical opinion. Their Coronavirus Frequently Asked Questions document is available on the NYP Coronavirus website.
To get regular updates on the latest developments with coronavirus in New York City text COVID to 692-692. You will receive regular SMS texts with the latest news and developments. Please check nyc.gov/health/coronavirus for the latest updates
If you are experiencing stress or feel anxious, contact NYC Well at 888-NYC-WELL (888-692- 9355) or text WELL to 65173. NYC Well is a confidential help line that is staffed 24/7 by trained counselors who can provide brief supportive therapy, crisis counseling, and connections to behavioral health treatment, in more than 200 languages.
Additional resources:
Download the app on your iPhone here.  Download the app on your Android device here.